NEWS
'The Bachelorette' Recap: Ashley Hebert Boots a Drunk; Keeps Masked Man & Beguiling Bentley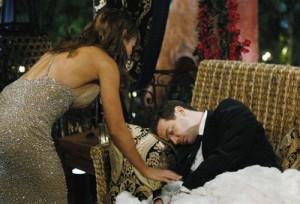 Ashley Hebert has taken on her role as the new Bachelorette with an open mind and jumped into last night's episode excited to meet her potential husbands. And there were certainly some characters! From a masked crusader to a boozed up liquor distributor, it was a busy night for Ashley as she sorted through the 25 male contestants.
Canadian Chris Malhomme was one of the six male suitors who unfortunately didn't get a rose.
Article continues below advertisement
Chris, 27 from Gibbons, Alberta, however, didn't make the best first impression.
OK! VIDEO: WATCH BACHELORETTE ASHLEY HEBERT CHAT WITH JIMMY KIMMEL AFTER THE PREMIERE!
"I'm from Canada. How are you doing? You look gorgeous," Chris, the president of JVR Construction, said as he shook Ashley's hand. "From what I know about you, I don't know too much, but we have lots in common," he continued nervously.
"Really?" Ashley replied with a smile.
"I'd love to talk to you inside. Good meeting you," he said before they parted.
While Chris failed to win over Ashley, a 27-year-old dental student living in Philadelphia, she did fall for some of the charming eligible bachelors who delivered sweet and thoughtful first impressions.
West, 30, from Walhalla, S.C., gave her a broken compass with the needle stuck on west, in case she felt "lost" and needed to find her way back to him. Ben F., 28, from Sonoma, Calif., brought along a bottle of wine made from the grapes in his own vineyard and two wine glasses and shared a toast with Ashley.
Article continues below advertisement
Ames, a 31-year-old portfolio manager from NYC, arrived with two tickets to the ballet in his hand. And perhaps the most thoughtful gesture came from Constantine, a 30-year-old restaurant owner from Atlanta who tied a pink ribbon of dental floss around one of Ashley's fingers.
All of them were rewarded with a rose.
Ryan P., a 31-year-old solar energy executive from Fresno, Calif. impressed Ashley so much that he received the first impression rose.
When Ryan was asked by ABC if he could be someone else for just one day, who would it be and why, his response was, "Tom Brady — guy has everything ... intelligence, athleticism, love, family, wealth, looks, and a Super Bowl ring."
While Ryan gave Ashley butterflies, "Drunk" Tim did not. The 35-year-old liquid distributor from Massapequa, N.Y., was so nervous that he paid more attention to his glass of champagne then Ashley and actually passed out during the cocktail party.
Article continues below advertisement
Needless to say he was sent home.
As for the drama this season, it looks like tension and emotions will run high thanks to rugged Bentley, a 28-year-old dad from Tampa, Fla.
Ashley told host Chris Harrison that she had received a phone call from one of her fellow pals, who was also a fellow contestant on Brad Womack's season of The Bachelor, and was told to watch out for Bentley because he may not be pursuing Ashley for the right reasons.
But Ashley didn't heed her friend's warning, and decided to give Bentley a chance because he seemed to be genuine.
And as viewers, we see that is not the case. The two-faced contestant expressed his disappointment to the camera about finding Ashley standing there when he pulled up in the limo and not Emily Maynard, who Brad Womack proposed to but has since split up with.
Article continues below advertisement
And by the looks of the previews, Bentley will break Ashley's heart.
Another contestant to watch out for this season is Jeff, a 35-year-old entrepreneur from St. Louis. He greeted Ashley wearing a masquerade style mask, concealing his identity. And it looks like he won't be taking it off anytime soon.
But the mask kept Ashley intrigued and he received a rose.
In the end, Chris, Frank, Jon, Michael and Rob did not receive a rose along with drunk Tim who left before the ceremony even began.
Catch some clips from the premiere below!
Drunk Tim Gets Thrown Out
Diaries of the Departed
Deleted Scene: One-on-One Time with Constantine