NEWS
'Bachelorette' Recap: Ashley Hebert "Can't Even Breathe" But Finds a "Boyfriend"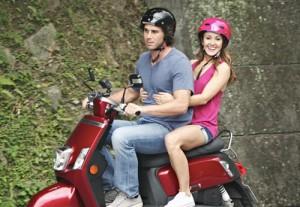 Ashley Hebert came one step closer last night on The Bachelorette to finding her "husband," when she found a "boyfriend." The 27-year-old dental student said goodbye to two eligible men last night on The Bachelorette, but started making deeper connections with the other contestants as hometown dates loom next week.
Ashley took the six remaining bachelors to Taiwan, where she went on three one-on-one dates and one group date.
Article continues below advertisement
Constantine Tzortzis was granted the first date with Ashley and the duo took part in a Taiwanese lantern tradition in which they decorated a lantern with affirmations and sent it off into the atmosphere.
She said she felt a connection with him and wants to be "patient" during their dating process.
Even though things are moving slowly between Ash and the 30-year-old restaurateur from Atlanta, he is keeping her "intrigued."
Constantine explained he is looking for that "moment" when he and Ashley are both connected to one another.
"All of me is what you will see if you decide to go back to Atlanta with me," he shared. "You have to see what my family is about."
But Constantine also does not want to force love or dive in too quickly.
"If I fall in love... If we are really in love at the end of this... For me, it's gonna be that moment when it happens for you," he told Ashley. "You can't force what a powerful emotion love is."
Article continues below advertisement
Ashley said they had a "huge breakthrough" as a couple and she is "excited to see what happens next."
Ben Flajnik was the next lucky recipient of a one-on-one date and the duo traveled around by scooter to see the breathtaking landscape of Taroko Gorge.
Their date was so successful, Ben did not return to the house until the next morning, sending the remaining guys into panic — especially J.P. Rosenbaum who seemed to be the most jealous and surprised.
"He ain't got nothing on me," J.P. said of Ben. "What the f**k is going on."
Ben took the time to open up to Ashley and reveal he is falling in love.
"I'm cautious about who I say it to and when I say it, it means a lot and a lot of it came pouring in today when we were riding around on that little scooter," the 28-year-old winemaker from Sonoma, Calif. gushed. "This is good and it feels right. I'm ready to open up again."
Article continues below advertisement
And Ashley was swooning.
"I think that I might be falling in love with Ben," she shared. "I feel more comfortable and I feel like I know him. I feel like he's my boyfriend."
J.P., Lucas Daniels and Ames Brown are set for their group date, and try to put the fact that Ben "spent the night" with Ashley behind them.
But J.P., a clear frontrunner this season, had trouble concealing his jealousy.
For their group date, the guys take part in a Taiwanese wedding photo ritual — wearing different outfits to show the different popular photo options couples choose.
Lucas and Ames are forced to wear clothing that is out of their comfort zone, and J.P. was the lucky recipient of the tux.
During Lucas' shoot, he kissed Ashley and J.P. can hardly handle it.
He said he felt "awful" and wanted the group date to end. His mood even loomed over his photos with Ashley.
On the second part of their group date, J.P.. explained that the show is harder for him than he expected since he has already fallen hard and felt a deep connection with Ashley.
Article continues below advertisement
"It sounds great in theory, but when you feel this way about someone that changes everything," he told her, sounding defeated.
And he received the coveted rose on the group date.
"To hear that you were having a really hard week, it broke my heart," she told him. "I want you to get through these hard times because there is a good possibility things can come from this. I want to meet your family so bad."
The last one-on-one date went to Ryan Park, marking the first time they were alone together.
"I like Ryan because he is a positive person and has a great outlook on life," Ashley explained, adding, "I don't know if I have that romantic connection."
Throughout their date she continues to wait for the big "moment" with Ryan, but unfortunately it didn't come.
"I feel a passion with some of the other guys and that is something I'm not feeling with Ryan," she told the cameras, before breaking the news to him.
Article continues below advertisement
"You're such a great guy, I just don't know if I see you as my husband," Ashley told a visibly shocked and upset Ryan.
"You don't want to meet my family?" he asked devastated.
"I'm just not feeling it," she said. "I respect you so much that I don't want to put you through the rose ceremony."
"I didn't see it coming," he said before walking away from the cameras and delivering some bleeps.
"I want to find that person," he added. "I want to be a great lover and a great dad... and I will be someday. Someday I will be."
Then Ashley gets rid of Lucas at the rose ceremony, and he handles the blow graciously.
"Rejection is never fun," he lamented. "When my name wasn't called it was a gut shock. I think I built a slower connection than some of the guys. I just want someone to wake up to. Someone to make breakfast together with in the morning. Just simple stuff. I wasn't ready for this to be over."
Article continues below advertisement
And all the heartbreak has taken its toll on Ashley, as she was very emotional at the end of the episode .
"I never knew there would be this much pressure," she said crying. "Sometimes I want to be like, 'Oh my god, I can't even breathe.' I hate feeling this way. I really hate it."
Next week Ashly travels back to the U.S. to meet the remaining bachelors' families.
Watch Ryan and Lucas exits, via ABC, below. Did she make the right choices? Sound off in the comments.