NEWS
'Bachelorette' Recap: Ashley Hebert Gets Dumped Again; Ryan Park Returns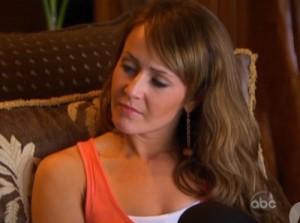 Ashley Hebert finally reached the overnight dates with her three remaining bachelors — Ben Flajnik, Constantine Tzortzis and J.P. Rosenbaum. During her opening monologue on last night's episode of The Bachelorette, she discussed the pros and cons of each of her remaining men and said she remains optimistic that she will have a "very happy ending." She finally sounded confident in her decisions as she prepared for her dates in Fiji, until an unexpected visitor surprised her.
Article continues below advertisement
While Ashley was expecting Ben for their one-on-one date, Ryan Park, a 31-year-old solar energy executive from Fresno, Calif., showed up at her front door.
"I feel there are things unsaid and undiscovered between the two of us," Ryan explained as he walked to her front door. "What if she is regretting sending me home? I've got to see Ashley one more time, to say 'Do you feel at all like I do?' "
He added, "I want to talk to her face-to-face and look her in the eye and say, 'Hey lets give this another shot.' It could be the most magical moment we look back on for the rest of our lives."
Ashley looked shocked to see him and Ryan went directly into his speech about how he didn't see his elimination coming, and he didn't feel he and Ashley "had a chance to see things through."
"All I'm asking for, I can live with the answer either way, I feel we didn't have a full chance and you know where you are with things and I don't know if after I left if you sat back and regretted anything and thought about me at all and thought, 'Wow maybe we should have had more time together,' " he divulged to a confused-looking Ashely. "If that's in your mind at all I want to spend more time with you so bad."
Article continues below advertisement
And it didn't stop there.
"When I stepped out of that limo for the first time, there was something there, so fluid and great, never had a chance to fully let it go," he continued. "With us I just feel like we didn't really have a chance."
Ashley remained silent for most of their meeting, and he gave her a piece of paper with the name of the hotel where he was staying — "If you want to spend more time together, this is where you can find me."
"I can't believe you flew all the way over here," she said.
"I'll wait for her," the hopeless romantic said. "I'm more open than I have ever been. I'm more determined than I have ever been. If I get hurt this time, that's fine. At least I can step back and say I gave it my all."
As Ashley prepared for her date with Ben F., she explained that she did think about Ryan when he left wondered if she made the right decision.
Article continues below advertisement
"It really shocked me," she said of Ryan's return. "Threw me for a loop. But Ben is about to show up for our date. I'm so excited to see him."
The duo have a very romantic date on a yacht, complete with a suntan lotion rubdown and snorkeling.
"More than ever I can see myself with Ben," Ashley shared. "He has this hunger for life, and I think there would never be a dull moment with him. As long as I'm with him, I think everything would be okay."
Ben said he felt like he was "floating."
They shared a very romantic dinner and continue to comment on how "effortless" their relationship is.
Ben even said the "L" word.
"I'm available whereas two months ago, I wasn't available," he shared with her. "I'm on my way to the whole 'I love you' thing. "
They steamed things up in the pool, and of course Ben accepted the overnight date card proposition.
Article continues below advertisement
"It's a great love story and it's is romantic," Ashley gushed. "This whole journey that has opened him up to the possibility to love. I'm feeling as strong for him as I ever have."
Up next — Constantine and Ashley go for a romantic helicopter ride and jump off waterfalls together.
Ashley kept commenting that her relationship with Constantine moved the slowest.
"It's hard to read Constantine," she said. "Is he into this, is he not? He's very selective about what he says. There is a part of me that thinks he can't jump into a relationship head first. He needs more time. Something we don't have."
Ashley added: "I don't feel like you want to hold my hand or be around me all the time. I feel like time is what we need. I'm hoping tonight we can figure it out. I don't know."
And then Constantine dropped the bomb.
"Things come naturally to me in a relationship, holding hands, but I haven't been able to do that. I don't feel like I've held back at all," he explained. "I would want ideally for me to be madly head over heels 100 percent sure, ready to meet your father and ask for your hand in marriage. I have too much respect for you to do anything but that. I'm sitting here now thinking I'm not there yet."
Article continues below advertisement
"This fantasy suite, I know what it means, and I know what it implies. I'm not pretending. I respect you too much as a person, to make this any harder than it needs to be."
And with that, Ashely hugged him and Constantine departs.
"I'm shocked he didn't want to give it the time to see if there was anything there," she said.
As Constantine leaves, he added, "The last thing I wanted to do was walk out on her. That's why it took me a little time to figure out if I would."
Ashley feels defeated at the end of her date —"If I end up all alone then all of this was for nothing."
"It still kind of hurts that he didn't give our relationship a chance," she continued. "How do I know someone else won't leave?"
Then Ashley needed to address Ryan's request.
Article continues below advertisement
She told him — "You were the guy I thought you were. I think you are one of the best guys I have ever met in my life. But I did know it was the right decision. I didn't feel that passion, and I know that's what I need in a relationship. The truth is, that I found that. "
Ryan continued to wallow, asking her, "Am I ever gonna find love"?
And Ash assured him that he would.
Finally, J.P. had his overnight date with Ashley.
"J.P. has been my rock throughout all this," Ashley gushed. "All the pressure goes away when I'm with him."
The duo took a trip on a sea plane together and flew to a private island.
J.P. told Ashley his family adored her and had "rave reviews."
Ashley said she can see a "lifetime" with J.P., and he echoed similar sentiments to the camera stating: "It's safe to say I'm falling in love with Ashley."
Article continues below advertisement
During the night portion of their date, Ashely told J.P. what had happened with Constantine's departure and Ryan's return.
J.P. seemed relieve it wasn't Bentley who returned, and respected the decisions she made.
"I just don't want you to be hung up on my other relationship, because I don't want it to ruin us," she warned.
He heeded her advice, adding, "I want to be the last guy standing not because I want to beat him. Because I want you."
He revealed to the camera that he wants Ashley to be his wife.
In the end, it's no surprise that J.P. and Ben both get roses.
"As soon as J.P. and Ben accepted the rose, hope came over me again," Ashley said.
Next week, Ashley's mother, stepfather, brother and sister come to Fiji. Both Ben and J.P. finally declare their love for Ashley.
But don't worry — a dose of obligatory drama will plague the final episode. Ashley fights with her sister after she says Ashley is no right for one of the guys.
Catch clips from last night's episode below. Who do you think is best for Ashley? Sound off in the comments.
Ryan's Return
Diaries of the Departed — Constantine leaves on his own accord
Deleted Scene — Pretty Kitty