NEWS
'Bachelorette' Recap: Ashley Hebert Goes Back to Seventh Grade; Ames Leaves Feeling "Numb"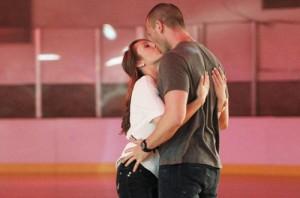 Ashley Hebert returned to the U.S.A. after jet-setting around the Pacific to meet her four remaining guys' families last night on The Bachelorette. And it turns out that the bubbly 27-year-old dental student can be quite the hometown heartbreaker!
First stop — Cumming, Ga. where Constantine Tzortzis welcomed Ashley with open arms and made her get down to work at his Italian restaurant, Giorgios!
"I like seeing Constantine walking around the restaurant," Ashley gushed. "He looks really sexy here, walking around. He's such a stud."
Article continues below advertisement
OK! GALLERY: BACHELORETTE ASHLEY HEBERT BANS BOZOS IN L.A.
The duo made pizza and salad in the kitchen, to the delight of the restaurant staffers who "awwed!" at the romantic lunch and kiss between Ashley and Constantine.
Constantine revealed he reached the point where the relationship "clicks" with him and he really wants to "make this happen."
Then they meet his family — father Dimitri, mom Ellenia and sister Maria.
"On his face I see his happiness," Constantine's proud dad shared.
Maria added, "They were so cute together. It made me feel okay that he's been away for so long."
His mom's main worry was that Ashley would not want to relocate, but Ashley suppressed those fears and explained that if it was right, she would move because the most important thing is to make the person she ends up with happy.
"I felt like I fit in perfectly," Ashley gushed of her time with Constantine's family.
Article continues below advertisement
At the end of their dinner, Constantine's entire extended family came to the house and they celebrated with a traditional Greek dance, the Zorba.
From Georgia, Ashley then traveled north to Ames Brown's hometown of Chadds Ford, Pa.
Ames' mom Jane noticed right away that her son had changed during his journey to find love.
"Ames looks terrific, he looks healthy, he looks happy," she shared. "He is clearly taken with her."
His sister Serena takes on the protective role, as she pressed Ashley about her feelings for Ames.
"I can tell Ames clearly has feelings for you," Serena told her.
Ashley explained — "The truth is that our relationship is moving a lot slower, but I'm choosing him because I see so many good things in him. I definitely feel something for Ames. It's just very different. Different in a good way. He thinks about things."
Article continues below advertisement
Serena likened her brother to an onion — "You are going to keep peeling layers and find out more."
Serena later told the cameras that while she thinks Ashley is "intrigued by" Ames she doesn't know if she has a passion or spark for him.
During mom Jane's one-on-one time with Ashely, she praised that moving slow is a "good thing."
"I want to feel that passion with Ames so bad, but I'm still missing that romance," Ashley told the cameras. "I'm still missing that spark between us."
Serena urged her brother to dig a little deeper with Ashley and get personal.
"I have that falling in love feeling," he told her.
Serena chimed in, "If the passion is there and the spark's there, then bring a little fire."
Then the adorable Ames made a valiant effort to bring on the romance with a picnic beneath a budding magnolia tree surrounded by the most picturesque country landscape — and they shared a steamy smooch.
Article continues below advertisement
"We had the most romantic kiss ever," he gushed. "I feel like time is standing still beneath this magnolia tree."
And Ashley almost seemed to be converted.
"Today was exactly what I've been looking for. I feel like we have a very real connection," she shared. "This could be a story book romance that I'll tell my children about forever."
After saying goodbye to Ames, it was Ben Flajnik's turn to give Ashley a taste of his life — and wine — in his hometown of Sonoma, Calif.
"Ben is so sexy," Ashley praised. "Everything about him screams sexiness to me."
She said she found a "romance" in Ben's sophistication, when he was showing off his extensive wine cellar to her.
"I don't bring a lot of women home," he revealed to her. "In fact I've I've only brought one to meet my mother."
Article continues below advertisement
Ashley became uneasy that she was one of the few to meet Ben's family, but he assured her that he was "really happy" that she would be meeting his mom.
"It's of utmost importance that Ashley gets along with my mom and my sister," he explained. "They're all I have."
Ben's mom and sister greet Ashly with open arms, and his sister explained that she was the one who signed Ben up for the show, as he seemed to withdraw himself from the dating scene after his father's death.
Ashley gushed that Ben's hair was the characteristic that lured her to him.
Ben explained to his sister that,"The thing with Ashley is it's just kind of effortless."
"If things keep progressing the way that they are and the way that they have been, I have no problem proposing."
Ashley reveals that her time with Ben's family was "over the top."
Article continues below advertisement
"There are so many great things I see in Ben," she said. "I can see myself spending the rest of my life with him."
Last hometown stop — Roslyn, N.Y. to meet J.P. Rosenbaum's family.
In the beginning of the episode when talking about J.P., Ashley overly gushed over the 34-year-old construction manager.
"I feel like I've known J.P. forever. I'm so comfortable around him," she said. "I feel secured, relaxed I feel like I don't have a care in the world. This is not an easy place to be dating. I hope he'll stay in that moment and know what I feel. With J.P. everything is there — physical and emotional. I just need to be sure that that feeling is there for both us."
J.P. greeted her with his adorable grin and their first stop was the roller rink!
"I feel like I'm back in seventh grade and I love it," Ashley gushed as she skated with J.P. under the disco ball and kissed him.
He shared that his family means everything to him and his last relationship was really tough, as he was hurt.
Article continues below advertisement
His mom, dad and brother give Ashley a warm welcome. And leave it up to the mom to have the most pressing questions for her son.
"Are you in love with her?" J.P.'s mom Ilene asked.
"There are a lot of signs that point towards it," he explained.
"Will you propose to her?" she followed up, digging deeper.
"If I feel like it, why not. I'm open to the possibility — I might."
Ashley revealed she uses her gut a lot to make decisions.
"I'm smitten with your son, and we having something special," she told J.P.'s mom.
At the end of their hometown date, J. P. revealed, "For some reason, I can sit here and say I'm in love with Ashley."
He added: "When I finally can say without any sort of hesitation that I love her, it will feel absolutely amazing."
His revelation forebodes trouble for the duo in next week's episode.
Article continues below advertisement
Before the rose ceremony, Ashley told host Chris Harrison she had "no regrets" with her journey so far.
She greeted her four remaining men in a short black dress.
"Meeting all of your families was just over the top for me," she said. "I came here looking for not just a good man, but a family man and I see that in each and every one of you."
In the end, adorable Ames was sent packing.
"I care so much about you and I want you to know that," Ashley explained to a visibly upset Ames, who tried his best to keep his endearing smile slapped on his face.
"It's been totally beautiful and full of the unexpected and even more poetic than I could have ever imagined," Ames told her, losing his composure a bit. "I'll remember every second for the rest of my life."
And in the obligatory post-elimination limo ride confessional, the always gracious Ames opened up more on his heartbreak.
Article continues below advertisement
"I feel pretty numb. I've fallen in love with somebody who clearly didn't fall in love with me back and I just wonder what it was," he said. "I was really excited to see what was going to happen between the two of us next and that's something I'm never going to get to know."
He continued: "I was just hoping to share a lifetime of adventures with this beautiful woman and ... now I'm back to sharing a lifetime of adventures with myself, which is less enticing."
Next week, Ashley takes her three remaining bachelors to Fiji.
Were you sad to see Ames go this week? Sound off in the comments.
Watch Ames' departure in the clip below.