NEWS
'Bachelorette' Recap: Ashley Hebert Still Pines for Bentley Williams; Ames Suffers a Concussion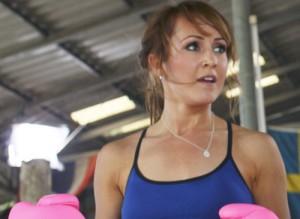 Ashley Hebert is building up her backbone. The vulnerable bachelorette who has been heartbroken more than any other in history, is trying to figure out what she wants, and has no fear to eliminate those who make her feel insecure.
It was the end of the road last night for William Holman, the contestant who devastated her during the comedy roast group date.
Article continues below advertisement
Will made Ashley feel awful again when on last night's episode of The Bachelorette he announced that some of the guys aren't even thinking of her anymore, singling out Ben Castoriano who happened to be his partner on this week's first two-on-one date.
He suggested that Ben was excited to leave so he can meet girls on the Internet.
At the end of the date, Ashley sent both Ben C. and Will home, along with Nick Peterson during the rose ceremony.
J.P. Rosenbaum and Ben Flajnik seem to be the two clear frontrunners as of now, but of course Ashley is still plagued by Bentley Williams and his dramatic "dot dot dot" departure.
Ashley opened up to host Chris Harrison about still really missing Bentley.
"I have to be open and honest with you right now," Ashley shared. "I have been thinking a lot lately about something in order for me to move forward with these relationships, I need to put this in the past. I know you're not going to be happy with me but it's Bentley and what could have been. I know it's not a good thing and not ideal."
Article continues below advertisement
"I try to suppress it and my head tries to forget about it but my heart always goes back to it," she added. "In times when I need comfort I think of him. That's not normal."
Chris disapproved, and delivered a stern response to Ashley: "This isn't going to work," he explains. "You can't have your foot half in the pool. That's not how it works. You're not going to fall in love like that."
Their Bentley discussion is setting up the beguiling single dad's return on an upcoming episode.
Other highlights from last night's episode: Poor Ames Brown suffered a concussion during their Muay Thai boxing group date, and Ben F. and Ash share a "mental kiss."
Catch clips from last night's episode below!
Diaries of the Departed
Two-on-One Date With William and Ben C.
Ames Consults Doc about Concussion