NEWS
'Bachelorette' Recap: Ashley Hebert's Roast Turns to Sobfest; Bentley Williams' Brutal Exit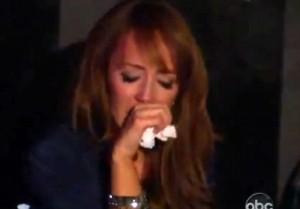 Ashley Hebert is certainly off to a rough start as this season's Bachelorette. The 27-year-old dental student was driven to sobs multiple times on episode three of the ABC reality show after her biggest fears were realized — feeling insecure that the guys were hoping for Emily Maynard or Chantal O'Brien, and losing someone she cared deeply about, Bentley Williams.
Ames, Ben F., Blake, Jeff, Lucas, Nick, Ryan P., William, Bentley and Chris D. were chosen for the group date.
Article continues below advertisement
Jeff decided to remove his mask and reveal himself to Ashley before they left for the day's festivities.
"I can tell you are the type of person who can see past what's on the outside. I'm nervous but I'm excited," he said before the big reveal.
And Ashley looked underwhelmed.
"My first reaction is he is a lot older than I thought he was," she said.
For the group date, the gang met Comedy Central's Roast Master General Jeffrey Ross from.
"The odds are in my favor that I'll probably get the rose," Will told the cameras when he found out that the task at hand was to roast Ashley. "This is what I'd been dying to do my entire life. I always wanted to be a comedian. It's a huge opportunity for me."
He continued: "If I could impress Jeffrey Ross it could open up the door for me to do my dream — roast Ashley tonight, and then roast some celebrity in a couple of months."
Article continues below advertisement
Not only did the guys have to roast the Bachelorette, but they had to do so in front of a sold-out audience.
Will continued to foreshadow what was about to happen with his jokes, as he explained, "I really want to make Ashley laugh, but I may make her cry tonight. It's ruthless. An opportunity to finally be real with Ashley. I'm gonna be real."
Instead of targeting their humor at Ashley, the majority of the guys chose to make fun of their fellow contestants.
Jeff was the butt of a lot of jokes because of his mask.
When it was his turn, he made a low jab about Ashley being flat-chested, and the others seemed to follow suit.
Ashley said she was prepared for the flat-chested remarks.
Bentley, who roasted Ashley to the camera on a daily basis, also made a crack about her boobs.
Article continues below advertisement
"Sixty percent of the guys are not here for the right reason," he began. "The reason I know that is because 60 percent of guys are boob guys. But her ass makes up for it. I'll tell you that."
Will kept commenting that the other guys were not completing the task at hand, as a roast requires you to target one person, Ashley.
"Ashley: so beautiful, so gorgeous, so used," he said during his turn. "They say one man's trash is another man's treasure. I thought I signed up to be with Emily or Chantal and then Ashley's here."
He followed up with, "Get out your cell phones to donate to the Ashley boob fund."
Everyone looked shocked at William's comments.
Of course beguiling Bentley told the cameras that he agreed with Will, but would never say that to her face.
Ashley ran off crying, and Bentley consoled her, further leading her on.
She seemed to be convinced he's the one.
Article continues below advertisement
Will decides the best way to let Ashley heal is by removing himself from the group date so she can spend more time with the other guys.
"Honestly, because I hurt you more then anything today, the only thing that is going to cure that right now is talk more to the other guys," he told her. "There is nothing I can say to undo what I said. Go talk to them."
Ashley went through the rest of the date feeling beat up.
Ryan P. and Bentley seemed to cheer her up, and in the end Ryan P. got the rose.
Bentley was so pissed, he decided it was the perfect time to leave.
His exit was so cruel and dramatic that it almost seemed staged. But Ashley's sobs were palpable.
"I've been saying from the beginning she's just not my type. I want to be on the first plane back ASAP," Bentley explained to the cameras, adding, "I really miss my daughter, but I'm not leaving because of my daughter. I'm not really into Ashley, so regardless of Ashley's emotions I know it's the right decision for me. I think the other guys are going to be shocked."
Article continues below advertisement
And the insults didn't stop there.
"I came in thinking that Ashley was not attractive at all. I knew for a fact I wasn't going to fall in love with her. I need to say goodbye to Ashley. The time is now. Heartbreak is worse than any illness in my opinion. It's not just physical pain, it's emotional pain… but it has to happen. The only other option that I have is to stay and I know that's not an option for me.
"I'm gonna make her cry. I hope my hair looks okay."
He also continued to reiterate that if Emily was the Bachelorette, he would have given it his all.
"I came into the Bachelorette hoping it was Emily. She's such a standout. She's so breathtakingly beautiful that Ashley can look like an ugly duckling to me and if I'm not interested in the girl, I'm not gonna stick around."
Bentley then broke Ashley's heart with the news and lied to her face.
Article continues below advertisement
"I know you're here to find love and I've been telling you from day one what I'm thinking and how much I'm thinking about my daughter, and I woke up this morning feeling my daughter really misses me," he told her. "The thought of her wondering where Daddy is, is too tough for me to take any longer. The thought of her asking Mommy where Dad is kills me."
She was left devastated and doubted she will be able to move on.
"I never knew I would come in here and so soon be heartbroken," she sobbed. "I'm ready for my happy ending and I thought it was with him. My heart is, like, totally broken. Was I wrong about everything?"
The only two saving graces of last night's episode — her one-on-one dates with Ben C. and J.P.
Ben had the first date of the episode and kicked things off right.
Article continues below advertisement
Ashley surprised the 28-year-old lawyer with the flash mob phenomenon — a large group of people that came together suddenly in an open space to do a choreographed routine.
"Ashley and I are a cute little team," Ben gushed. "Watching her do what she loves, watching her dance, makes her 10 times more attractive to me."
Ben and Ashley shared a sweet kiss in front of the mob and then had a romantic candlelight dinner, where Ben showed he has a hopeless romantic side.
"I want to live in a bubble with someone," he revealed. "Unrealistic, idealistic bubble where we are convinced we are the only people that ever lived. I want my wife to make me feel there is something unbelievable, special about us... A whole new league."
Ashley found him and his expectations to be endearing and shared that she wanted the same things in a partnership.
She gave him the rose and revealed "there was little heart flutter" she felt for him.
Article continues below advertisement
"I need to trust even though he can break my heart," she said.
After the disastrous group date and Bentley's heartbreak, Ashley was not in the right state of mind for an all-out one-on-one date with J.P.
They had a low-key evening at her pad, and J.P. was more than happy to snuggle with her in their pj's.
Ashley revealed she was emotionally drained and did not really have much energy.
But J.P. helped bring her back to life post-Bentley.
"I couldn't be more sincere when I say I'm in this for the right reasons," he said, comforting Ashley.
"Thanks for letting me look like this in front of you," a sweatpants/glasses-wearing Ashley told J.P.
She explained to him that it had been an emotionally draining couple of days and two of her biggest fears were highlighted.
"Of all the guys, I was really happy it was you that was coming," Ashley said, giving J.P. the rose. "I promise we will have a really, really fun next date."
Article continues below advertisement
It was clear by the end of their time together that J.P.is a frontrunner in the competition.
"There is something about J.P.'s kisses," Ashley gushed. "Even comparing them to a kiss I had with Bentley... J.P. over Bentley in the kiss department."
Ashley decided not to have a rose ceremony, as she felt it wasn't fair to the guys, as she was still feeling "emotionally drained."
"This time last week, I saw my husband in the room," she told host Chris Harrison. "This week I don't know. Bentley was my guy... I'm really sad that he left."
Chris questioned Ashley's reasons for falling so hard for Bentley. He hinted that it may be because of his "bad boy" image.
"For me, the hardest thing is the goodbye was left with a dot dot dot," Ashley explained to the host. "There is no closure there."
She continued: "I fell for him. I did. I felt like he was my guy. Now, walking into that room tonight I feel so alone. It's really taken a hold on me. It's unfair to the other guys."
Article continues below advertisement
She also addressed her emotions to the men before handing out roses.
"It's been kind of a crazy couple days, starting with the roast. I feel like one of my insecurities was touched upon and it really hurt me and I thought I was getting over it, and then I got another surprise. I didn't have the energy to give you guys… what you deserve."
In the end, Will was saved despite his poor roasting jokes.
Jeff, who had just revealed himself without a mask, and Chris D. were sent home.
Chris said he felt "defeated" for losing "quite an awesome woman."
Jeff is seen burning the mask as he leaves, lamenting about not being "the one" for Ashley.
Scenes for next week's trip to Phuket, Thailand, show Ashley rising above and making strong connections.
Watch scenes from last night below. Do you think Ashley was too sensitive over the roast? It was her idea to have it. Is the Bentley drama staged? Sound off in the comments!
Diaries of the Departed: Jeff & Chris D. say their final farewells.