NEWS
'Bachelorette' Recap: Bentley Williams Gives Ashley Hebert a "Period;" Mickey Books It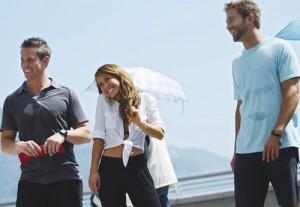 Episode six of The Bachelorette started off with a bang last night, as Bentley Williams — the beguiling contestant who left Ashley Hebert heartbroken with his two-faced exit from the competition, claiming he needed to reunite with his daughter as he badmouthed her to the cameras, asserting she wasn't his type — returned. Right at the beginning of the episode, Ashley met Bentley at her hotel in Hong Kong and finally got the closure she needed in order to move on.
Article continues below advertisement
At the start of the episode, host Chris Harrison sat Ashley down and said he had granted her wish — Bentley came to Hong Kong to see her.
As soon as Bentley opened the door, it was obvious he had not changed and he continued to sweet talk Ashley until she understood that he wasn't coming back.
She explained that she can't get passed their "dot dot dot" ending and it wasn't that "someone" left, it was that he left.
"Knowing that I'm home, it doesn't look good for me and you, and I would implore you to do all you can with what you have here, I guess."
She then realized that their "dot dot dot" had turned into a period, and that Bentley may have really been there for the wrong reasons, like Michelle Money said.
"Maybe we should call a period," Bentley finally admitted to Ashley.
Article continues below advertisement
"You came all the way here? You couldn't have called?" she said, looking into his eyes, hoping for something else from him and seeming to be baffled that he traveled "halfway around the world" for her without any intentions of rekindling their flame.
"I wanted to see you," he maintained.
They stared at each other for awhile before Ashley finally declared, "Guess that's it," and walked out.
She explained that she couldn't believe she had spent so much time thinking about Bentley.
"I needed this time away from him to really see through him," she said. "He knows exactly how to talk to a girl to get them to believe what he wants them to believe. He's that bad boy that wants to play women and has so many issues in his head. He's such a player."
Ashley continued: "He disrespected me, like, to the core, and I don't understand what I ever did or what anyone could ever do to make someone treat them that way. You know what? Bentley, if you're watching this, f**k you. I'm done with you."
Article continues below advertisement
With a clear head and fresh perspective on the competition, Ashley was excited for her one-on-one date with Lucas Daniels, where they explored the wonders of Hong Kong.
Lucas commented that Ashley had a "different glow about her," as her positive energy invaded their date now that Bentley was truly part of her past.
Lucas opened up about his tough romantic past as they sailed on a pirate ship around the city.
She praised him for being a "real guy" and gave him the rose to move on in the competition, and the duo shared their first kiss.
"Every time I'm with him I get surprised," Ashley shared. "Lucas makes me feel like a woman. There's something about his manhood that makes me feel protected."
Ryan Park, Mickey Mclean, Constantine Tzortzis, Ben Flajnik, Ames Brown and Blake Julian took part in the group date and the activity was dragon boat racing.
Article continues below advertisement
Ames and Mickey's team won the race.
Ames said his relationship with Ashley is unique.
During the second part of the group date, he planted a big kiss on her in the elevator.
"Woah, Ames, where did that come from?" she shouted, before kissing him again. They continue to makeout in the elevator.
And Ames wasn't the only one who got a kiss. Ashley and Ben F. the winemaker from the Cali had some serious lip-lock action.
To the dismay of the rest of the guys, Ryan received the coveted rose on the group date.
"I would love to see how you live your daily life," she said to him, before she left... only to bring him the rose!
Ashley and J.P. Rosenbaum finally get to redo their one-on-one date.
"This is the most excited I've been for a date since I've been here," Ashley said before meeting J.P.
Article continues below advertisement
Their last one-on-one time together was plagued by Bentley's brutal departure.
They enjoyed a romantic dinner and J.P. — a clear frontrunner in the competition — gushed that he thinks "they're meant to be."
He admitted that the last time he cried was over the heartbreak of his ex.
"Talking to J.P. tonight, I realize that I'm starting to fall for him," she said. "He is probably one of the most gorgeous guys I've ever seen in my live. He's loyal. He's going to be a great family man. He's the total package."
Then Ashley dropped the bomb, revealing to J.P. that she saw Bentley. Her nerves kicked in, but luckily J.P. completely understood.
She explained how she didn't get great closure, and that she sat down with him and they had a conversation which finally helped her move past her feelings for him.
"I'm happy to say that things are so different, and we put very great closure to everything," she said. "The reason I'm telling you is because I feel so strongly for you, and I want you to know about the whole journey."
Article continues below advertisement
"Thank you for telling me and I'm glad you got the closure you need," he said, following up his sincerity with a kiss. "I appreciate your honesty."
J.P. added that he feels that the fact Ashley told him about Bentley first "spoke volumes"
And of course, J.P. got the rose and was completely "blown away" by his feelings.
"J.P. is a guy I can see myself moving forward with," Ashley gushed. "I'm so comfortable with him. I really feel like there may be somebody here for me."
And while J.P. may have handled the Bentley news very well, he other guys didn't share similar sentiments and expressed their concerns at the rose ceremony.
She made the big reveal at the rose ceremony, and Mickey handled the news the worst.
Mickey asked to be sent home, because he couldn't understand what she saw in Bentley.
"If your gut is that he's what your looking for, then send me home," he begged.
Article continues below advertisement
Ashley said that if wants to leave, he has to take the initiative, so he did.
After his swift departure, Ashley cried and apologized to the rest of the guys.
Before giving out the roses, Ashley addressed the guys from her heart.
"I'm sorry if you feel defeated, but I care about you guys so much," she said. "I'm going to have a really hard time tonight. But thank you for sticking around and giving me a chance."
Before dishing out the roses, Ashley said she felt that she was very "selfish," but what she feels for them is "so much more" then what she felt for Bentley.
Ben F. got the first rose at the ceremony, followed by Constantine and Ames.
In the end, Blake, Ashley's fellow dentist, was sent home.
"The fact that she brought Bentley all the way over to Hong Knog to talk to her, it just speaks to the fact that she recognizes a connection when she sees it and we didn't have one," Blake said as he departed.
Next week the group heads to Taiwan, followed by Fiji.
Catch clips from last night's episode below! Do you agree with Ashley's actions on her journey so far? Sound off in the comments.
Diaries of the Departed
Rose Ceremony
Deleted Scene