NEWS
'Bachelorette' Recap: Bentley Would Rather "Swim in Pee" Than Marry Ashley Hebert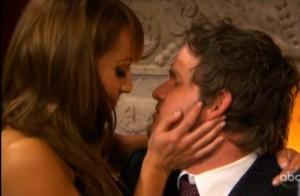 Ashley Hebert came one step closer to "finding her husband" last night on episode two of The Bachelorette. But while she made some great connections with a handful of the men, she is also letting herself fall deeper for the beguiling bad boy Bentley Williams — a 28-year-old single dad living in Salt Lake City, Utah.
Sin City served as the setting for all of Ashley's dates this week.
The first one-on-one date William — our dubbed Josh Lucas look-a-like.
Article continues below advertisement
They duo goes to Las Vegas on a private jet, and as soon as they arrived they go through the motions of planning a Vegas-style wedding. From tasting cakes, to being sized for rings and an actual trek down the aisle.
"I'm getting really nervous because we keep inching closer to the process of finalizing a marriage," William, 30, told the camera. "To me it's a joke. It's complete joke."
Ashley, wearing a white micro-mini dress, walks all the way down the aisle of the chapel and the priest begins to marry them. Will actually said "I Do."
"What do we do now, this could be a legally binding marriage," Ashley said, when she was asked to respond with her "I Do."
"I will eventually but not at this moment," she continues, "You are so sweet I can't believe you said that. You are the cutest thing ever."
Article continues below advertisement
"This is the best first dates I've ever been on," Will gushed.
And Ashley was just as happy.
"I nkow it's really soon to say this, but I'm really falling for William after half a date," she told the camera. "I can't believe I just said that."
Then the couple have a romantic dinner date in the middle of the water, and Will opens up about his dad's death six years ago to alcoholism.
"The date part was amazing and I saw a really fun side of you. I'm looking for something serious, not just a relationship, but a friend. In you I see everything," Ashley said when she gave William the rose, followed by a romantic kiss.
Constantine, Ryan M., Chris, Ben F., Nick, Bentley, West, Lucas, Stephen, Blake, Matt and Ames go on a huge group date to Vegas.
They find themselves having to choreograph a dance routine to be performed with the Jabbawockeez dance crew. The guys are divided into groups of six and the winning group gets to take the stage and continue the date with Ashley. The losing group is sent home.
Article continues below advertisement
They divided into "No Rhythm Nation" and "Best Men."
Bentley's group, No Rhythm Nation, are the winners and the other team is sent packing.
West, a 30-year-old lawyer and widower from Walhalla, S.C., was one of the victors from No Rhythm Nation and opened up to Ashley about his past.
"I'm 100 percent here for you," he shared. "I'm in it. "
Then he opened up about losing his wife Sara, who he was with for seven years and married for nine months before she passed away.
"That's pretty heavy," Ashley said after hearing his story.
"I was able to learn from it," West explained. "Cherish every moment you have with them."
Bentley was next up for some one-on-one time, and continued to explain that he was "very competitive."
"She's obviously a beautiful girl. She has an amazing body — great butt, amazing legs," Bentley told the cameras. "To have her tickle my pickle that would be amazing. That's the extent of my interest. She is just not my type."
Article continues below advertisement
Bentley explains to Ashley that his daughter would be a reason for him to leave the competition early, but she continues to beg him to stay.
"It's almost like the game is over before we even pushed the start button," Bentley said cockily. "Like let's not even play."
And of course it was Bentley who received the final rose.
"I just want to thank this person for being here even though I know they are giving up a lot to be there," Ashley said. "I know I gave you the last rose at the first rose ceremony so now I'm giving the first rose."
Bentley's response behind Ashley's back —"I got the rose. Seriously can we just bag this and go play black jack. "
And poor West was left downtrodden as he was expecting the rose after opening up about his wife.
"It stinks not to get the rose," he shared. "I think Bentley is more competition than I originally thought."
The final one-on-one date is left up to a coin toss between Mickey and J.P.
Mickey, the 31-year-old chef from Rochester, NY, won the date with Ashley.
Article continues below advertisement
The duo drinks, enjoys dinner overlooking the city and then Ashley leaves the rose up to fate of a coin toss.
"I see a lot of things in you that I'm looking for, but I don't know... I think we should flip a coin," she said.
And he wins the coin toss. Ashley revealed she was only trying to play with him a bit.
"They go for a walk on the beach, where they are serenaded by singer Colbie Caillat.
At the cocktail party, J.P. made sure to get the first one-on-one time with Ashley.
"I've got a crazy idea," he began. "We are going to flip a coin right now — heads I get a kiss... tails I don't."
And luck is on the 34-year-old construction manager's side this time, and Ashley has no problem going in for a kiss.
"I'm not the type of girl to lean in for a kiss, but for some reason I really wanted to kiss J.P. tonight," Ashley told the cameras.
Article continues below advertisement
"I would have been really happy to see you to come to Vegas, but I do see something in you that's really great," she shared with him. "I think we have some good times ahead. I want you to enjoy this and be patient. And just enjoy the ride."
Jeff, the masked crusader, finally gets some one-on-one time with Ashley. He divulges his life story, explaining he had a brain hemorrhage which changed his life and was divorced after 10 years of marriage.
As he is about to take his mask off, they are interrupted.
Also during the cocktail party, Will bragged about his Vegas date, saying that it was fun to plan the wedding.
"I mean that just sounds terrible," Bentley told the camera. "I would literally rather be swimming in pee than planning a wedding with her, because I'm not thinking, 'Oh my gosh this is the girl of my dreams.' I'm thinking she's not my type."
Article continues below advertisement
Then Bentley decided to pursue Ashley more.
"Actions speak louder then words — I'm a fan of that," he explained to the camera before he found Ashley for some more one-on-one time. "Do I need to force this kiss? Do I need to ram my tongue down her throat?"
He picks her up and brings her down to the fireplace.
"There is something very romantic about the way he brought me down to the fire place," Ashley shared.
Bentley wanted to get right down to it — "You tired of talking? Let's not talk."
"Wow, that was kind of boring," he said after their kiss. "It started out good, but it sucked toward the end. I'd be lying to everyone if I was like 'I'm in this to the end. I'm gonna ride this out for two months.' There is no way I'm gonna last that long."
Article continues below advertisement
Ashley's concerns about Bentley seem to be dissipating. She received text messages from one of her fellow Bachelor contestants warning her Bentley was there for the "wrong reasons." But now she seems to be hooked.
"I've seen such sincerity in him that my gut tells me to trust him. I could be completely wrong but in my heart I feel something really strong for him. He would be the one for me."
Before handing out the roses, Ashley gushed to her remaining men: "After this week of dates I can say that I think my husband is standing in this room."
In the end — Matt, Stephen, and Ryan M. are sent home.
Catch clips from the episode below. Do you agree with Ashley's decisions so far? Sound off in the comments!
Deleted Scenes
Diaries of the Departed : Matt, Stephen and Ryan M. are sent home and share their thoughts with the camera.