NEWS
'Bachelorette' Recap — Contestants Travel to Tahiti, Drama Ensues!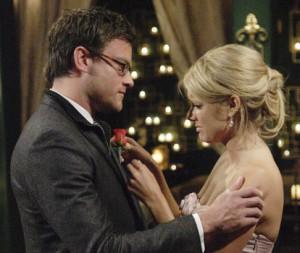 This week The Bachelorette started off with Ali Fedotowsky's three final contestants getting ready to depart L.A. for Tahiti. WARNING! If you haven't watched last night's episode, spoiler alerts are ahead!
OK! GALLERY: ALI FEDOTOWSKY CRACKS UP IN CALI
Chris L. and Roberto confessed that their feelings for Ali have grown since her visits to their homes, but the same didn't exactly apply to Frank, who was thinking of his ex, Nicole.
Article continues below advertisement
"We had the relationship I have always wanted," Frank said of Ali. "As my feelings for Ali have grown, I realize I might still be in love with Nicole. It's killing me that I have feelings for two girls."
Frank decided to travel back to Chicago to see if he's still in love with Nicole.
He told her he and Ali have a great connection and he has real feelings for her, but in the process of falling for Ali, he had feelings brewing inside of him that were for her.
"I wanted to see if we still have that spark that we had before," Frank said, to which Nicole told him to come home.
Frank said that's what he needed to hear to realize he's in love with Nicole and that he wants to spend the rest of his life with her.
OK! GALLERY: ALI FEDOTOWSKY'S CARE-FREE SALON & SHOPPING DAY
Meanwhile, Ali arrived in Tahiti, convinced her husband is among the three guys.
Ali had her first date with Roberto and the two went on a helicopter ride overlooking an island of Tahiti before being dropped off at a heart-shaped lagoon.
Article continues below advertisement
During their dinner, Roberto admitted that he feels he's been closed off towards Ali, but wanted to tell her that he's falling in love with her.
Ali then presented him the key to the fantasy suite where their date continued, and she wasted no time taking Roberto's clothes off.
OK! NEWS: BACHELORETTE RECAP — ALI TRAVELS TO FOUR HOMETOWNS: KIRK SENT HOME
The next day, Ali and Chris went on their date aboard a yacht.
Chris explained how he hasn't really dated in the past year or two since his mom's passing, and he hasn't really opened up to her. But Ali said she thought they were making up for lost time and presented him with the fantasy suite key.
"Yes, I love this girl, 100 percent," Chris admitted. "I just don't know how to verbalize it."
OK! EXCLUSIVE ALI & JAKE'S SECRET REUNION
Frank then arrived in Tahiti on a mission to tell Ali he was going back to Nicole.
Article continues below advertisement
Chris Harrison met with Frank before his date with Ali to discuss what he was going to do. Chris told him that Ali's crazy about him, but Frank insisted he's in love with Nicole and that he hopes his decision is right.
When Ali showed up in his suite and greeted him with a big hug, Frank immediately told her they needed to talk.
He explained he had thoughts about Nicole, which he thought were going to go away. He confessed he went to go see her in Chicago after his hometown date with Ali, and when he saw her, all of the old feelings came rushing back.
Ali told him it was selfish of him to have done this and they both sat there crying in their hands. She later removed herself, and departed with a long, tear-filled hug.
OK! EXCLUSIVE: ALI FEDOTOWSKY'S EMOTIONAL RETURN TO THE MANSION
Chris Harrison then had a conversation with Ali on the beach. Ali confessed she thinks what Frank did was cowardly and that he's the biggest jerk she's ever known.
At the rose ceremony, Ali explained to the guys that Frank had business back at home he hadn't handled before he came there, and so he left to go handle it.
She still gave the guys roses, because she wanted to make sure the guys wanted to be there themselves, and not by default.
By Patricia Ramos