NEWS
'Bachelorette' Sneak Peek: Guys Worry About "Shirtless Adonis" Nick Wooing Ashley Hebert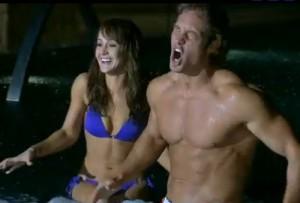 As Ashley Hebert struggles to move past the Bentley Williams heartbreak, the other guys try to keep her smiling on next week's episode of The Bachelorette. Nick Peterson, a 26-year-old trainer from Odessa, Fla., seems to be able to do that just by taking his shirt off, making the other contestants very jealous!
"Listen I'm not afraid of it, I just don't want to stand next to him," J.P. Rosenbaum says of Nick's brawny bod in a sneak-peek clip of next week's episode. "It makes the rest of us even smaller."
Article continues below advertisement
The guys sit around and joke about their fears of Ashley seeing Nick shirtless.
"I'm sure she was curious to see what he was hiding under there," Blake Julian muses.
When Ashley comes in to greet them on their group date, Nick lifts her off her feet and steals some one-on-one time, which looks like it might steam up when they hit the hot tub.
FOR MORE ON BENTLEY'S DEVIOUS WAYS AND ASHLEY'S HEARTBREAK, PICK UP THE NEW ISSUE OF OK! — ON SALE EVERYWHERE THURSDAY!