NEWS
Bachelorette star Ali Fedotowsky Opens Up About Her Long Engagement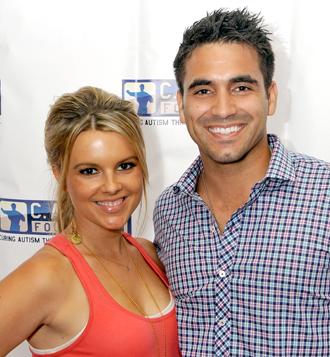 With news of Jessica Simpson delaying her marriage ceremony with Eric Johnson until the pregnant star pops, we asked another long-engaged celeb her thoughts about putting a hold on the walk down the aisle. Former Bachelorette star Ali Fedotowsky shared with OK! about her "backwards" reality show romance and the benefits of her long engagement with fiance Roberto Martinez.
"Yes, it's a long engagement, but our courtship hasn't been that long. The Bachelorette is a little out of whack. Everything is done backwards. Moving together right away and all that stuff," the reality star fessed at the OpenSky pop-up gallery launch in NYC recently.
Article continues below advertisement
"The good thing about a long engagement is that at that point you've already committed your life to each other, so there's no game playing," she explains. "Whereas when you're dating instead of engaged, sometimes little games can be played, like 'Should I text him? Should I bring up kids? But we're only dating — he's only my boyfriend — I don't know if he wants to spend his life with me.'"
"All those things that you're afraid to bring up in a dating relationship you can bring up in an engagement. And if your engagement is longer, all the more time to work out those things," she added.
So does all that talk include babies? Ali shared that she "absolutely" wants kids one day and has entertained the idea of being a young mom!
"Honestly, I don't want to be too old when my kids are growing up. Roberto and I were actually talking the other day that he has a great grandmother. His brother's son has a great-great-grandmother. I think it's amazing to have that many generations. I don't really want to wait too much longer. But I don't know."