NEWS
Bachelorette's Jillian Harris Tells OK! She & Fiancé "Not Even Close" to Split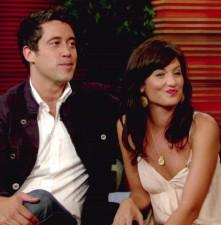 Any recently engaged woman would be in soon-to-be marital bliss heaven, but that's far from reality for The Bachelorette's Jillian Harris, who was recently proposed to by finalist, Ed Swiderski.
But a recent tabloid cover story alleges that Ed hasn't been faithful to Jillian — even after he had proposed — with two of his ex-girlfriends: Lindsay Johnson and Bethany Steffen.
However, Jillian tells OK!, contrary to the claims, the 29-year-old has been standing by her fiancé.
Article continues below advertisement
The reality star explains to OK! that the tabloid story "claimed Ed and I broke up, when in fact we have not even come close... I really want out of the spotlight so bad. I hate it so much."
This is not the first time the Canadian native has suffered heartbreak on national television. On the last season of The Bachelor, Jason Mesnick did not pick Jillian, who ultimately came in third place.
Yet audiences fell in love with the bubbly brunette and Jillian was offered the opportunity to be the next Bachelorette, giving her a second chance at love.