NEWS
The Bachelorette's J.P. — Secrets Revealed: All The Stuff You Didn't Know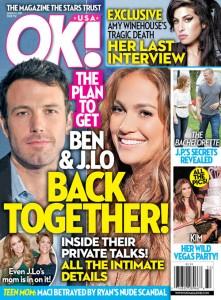 As this season of The Bachelorette winds down to a dramatic close, J.P. Rosenbaum, a 34-year-old construction manager from Long Island, N.Y., has garnered the most attention, and we can see why. This sexy New Yorker has proven to be bubbly Bachelorette Ashley Hebert's most solid, intelligent and well-spoken suitor. (It doesn't hurt that he has a master's degree from New York University — or that he is sexy and sweet.)
Article continues below advertisement
OK! VIDEO: BACHELORETTE SNEAK PEEK — ASHLEY HEBERT FIGHTS BACK TEARS IN FIGI; GETS A SURPRISE VISITOR
HE CAN LAUGH AT HIMSELF: His boss nicknamed him "Cupcake" after J.P. suggested bringing some treats to the office. The name stuck. Ashley thought it was cute and said she wants her future husband to call her "Cupcake."
HE IS STILL FRIENDS WITH HIS EX: Any guy who can stay pals with the woman who broke his heart has to be a real catch, right? J.P. and ex Lindsay Godt (right) are still on good terms after their breakup, and even talk occasionally. "They had a good relationship," says a friend. "It just didn't work out."
HE'S KIND: After Bentley Williams broke Ashley's heart, J.P. sat up with her on their first one-on-one date and comforted her. "He's a gentleman, just very thoughtful and not a player," adds Victoria.
HE WANTS TO COMMIT: "He's not the kind of guy who can hide his feelings," New York friend Victoria Flores, president of Adriana Carador designs, tells OK!. "He's a great guy who's ready to settle down and start a family."
Article continues below advertisement
HE LOVES A NEW ADVENTURE: When J.P. was 26, he traveled around Australia for two months. "I just picked up and left, on my own, and bounced around the eastern coast of Australia," he says. "Time of my life."
HE BELIEVES IN LOVE: "There is potential for me to get seriously hurt here," J.P. said of Ashley. "But I'm willing to risk it all for the chance to fall in love."
FOR MORE ON THE BACHELORETTE PICK UP THIS WEEK'S ISSUE OF OK! MAGAZINE ON SALE NOW!