NEWS
BACKSTAGE WITH THE JANICE DICKINSON MODELING AGENCY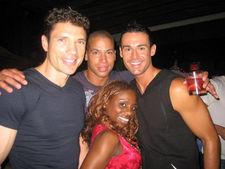 The business tactics of supermodel-turned-entrepreneur may seem outrageous, but she certainly knows how to get her employees work. I watched several of Janice's buffed male models from Oxygen's reality series, The Janice Dickinson Modeling Agency, sport underwear, and little else, at the 2(x)ist fashion show at STYLE360 inside the Metropolitan Pavilion Tuesday night. Working the runway was , , and John – oops that last one's my hunky party hopping pal who could have hit the catwalk himself.
Article continues below advertisement
Performing mid-show was rumored Apprentice contestant . Dressed in Agent Provocateur lingerie, she spun on a ring suspended from the ceiling. I was getting dizzy, but Carmen didn't seem fazed by the twists and turns. "I always get a little nervous," she admitted to me after the show, adding that she's been practicing her acrobatic work with a trainer in Los Angeles. Carmen twirled to ' new single, "Gimme More," and spoke favorably when I asked her about the troubled pop princess. "She's always been very nice to me and I really like her a lot," said Carmen. "It was actually a lot of fun to perform to her song."
I also chatted with a shirtless J.P. who shed light on what it's like to work for Janice. "She's crazy, but she knows what she's doing," he shared. "She's smart and compassionate, and she's the mother of two, so she has a soft spot." He also admitted that being nearly nude in public no longer embarrasses him. "On the show, we're pretty much in our skivvies 24/7," he laughed. Hey, that's three-quarters my reason for watching!
Model Maurice gave me some scoop on what's coming up when the show returns for season three in December. "Janice has us going down to Miami," he revealed. "Not sure what's going to happen, but I'm sure it's something good."
Now I can't wait for the holidays!