NEWS
Backstreet Boy Brian Littrell Talks Vow Renewal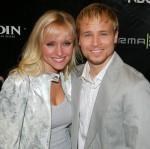 When Brian Littrell and wife Leighanne renewed their vows on September 11, they were not only renewing their love for each other after ten years of marriage, but also celebrating their lives on a day most consider to be a somber anniversary.
Now parents to Baylee, 7, the Backstreet Boy, 35, and his bride, 41, tell all about the celebration and reveal why September 11 is special to them, how they keep their marriage strong and where they see themselves as a couple in ten more years.
Article continues below advertisement
Why did you choose to renew your vows?
Brian: I think it's rededicating one another's life to each other, and showing that we are for marriage, we are for togetherness, we are for family. I think that signifies a lot of things in today's world. Me, being a Backstreet Boy, and traveling the world and how people glorify the entertainer's life … they also like to glorify how things fall apart tragically a lot in our world that we live in. In rededicating our vows to each other, it signifies how in choosing a companion and in choosing to love one in the first place, you want to be able to continue to be able to re-choose them and choose them over and over and find new ways to love them. After ten years and over thirteen years together, we still choose one another. I think that speaks volumes to what our love represents.
Why did you choose September 11?
Brian: It's funny. We were trying to do it the weekend before, but the Backstreet Boys were wrapping up our Canadian and U.S. leg of the tour – of the This is Us tour. We wanted to have more time to prepare when we got home. It ended up falling on September 11, and what is signified about September 11 is not only were we celebrating our vows and renewing each other, but we were also celebrating life.
Article continues below advertisement
My wife Leighanne was scheduled to be on the American Airlines flight that morning out of Boston to California on the morning of September 11. The Backstreet Boys had just performed five sold-out nights at the Fleet Center there in Boston, and we were traveling to Toronto. My wife had scheduled to fly on the American Airlines flight back to L.A.
We as a group lost one of the crew members, a gentleman by the name of Daniel Lee, who was traveling on that same flight to surprise his wife for the birth of their second child. He went into the towers with the plane.
It's amazing how it all worked out. If I did not have my wife, I wouldn't be married, I wouldn't have the life that I have and I wouldn't have my wonderful baby boy who's not a baby anymore – he's going to be eight-years-old.
It's a celebration of life with how it fell on that day. It's a meaningful time in our lives. I think we celebrated two anniversaries almost.
Why did you get out of the flight, Leighanne?
Article continues below advertisement
Leighanne: The craziest thing was the night before I had this horrible feeling. I told Husband – you weren't Husband yet, were you? – I told Brian "I feel really, really bad about going. I don't know what it is." He was like "Leighanne, you've got an audition, you've got a dentist appointment, you've got all these things to go back for – you just need to go." And something kept telling me "you can't go." I can't explain the overwhelming feeling in my soul that there was no matter what I couldn't get on the plane.
I broke down to him and said "I can't do it." He goes, "well, God, if you feel that strongly about it, cancel it." My family and friends thought I was on the flight, so the morning of, we happened to be sleeping in, and our phones were ringing like crazy. We got up in time to see the plane that I was supposed to be on hit the tower.
That's incredible. What special touches did you have that made the ceremony personal?
Article continues below advertisement
Brian: Everything. laughs
Leighanne: Husband seems to think that one of the greatest things was our son got to walk down the aisle to celebrate ten years together. We want to celebrate family and celebrate love. Like Husband said, you don't get enough of that in our industry anymore. Everywhere we go, we make our situation love, life and happiness. We surround ourselves with it. On this occasion, we invited 80 people who are close friends to us who always support marriage and love.
A crazy idea we had had – I was swimming in a pool one day, and I said 'oh my gosh, Husband, we need to have synchronized swimmers in our pool!' Because we enjoy our home and our love so much that we love to make things special and make things eventful. Pretty much everything we do, we do with everything we have – with all our hearts and souls. We started planning this fun, crazy party that everyone would enjoy and that would be a surprise to us all.
Article continues below advertisement
We started with synchronized swimmers in our pool because we love what old Hollywood represents as far as talent and the real meaning of Hollywood where it was not just about being famous, but it was about what you could bring entertainment-wise.
Brian: And being classic as well.
Leighanne: Yes, the class. Bringing the class back. It was all about class.
Brian: When Leighanne and I were first married, we had a beautiful reception on the whole fourth floor of a top-notch hotel. It was an amazing event, and it was an amazing time in our lives, but I'll tell you Leighanne and I both, looking back on our ten-year anniversary, we had more fun then than we had at our very own wedding.
It's cool to be in the situation where – everybody should be in that situation – where they can do whatever they want when it comes to spending time with those that they love. Having the right company there, and having the event and what they want going on. We had a huge, big band – an eight-piece band. It was so cool. All our guests kept saying "it's like old Hollywood." Leighanne and I kept being reaffirmed all night that that's exactly what we wanted from the evening. We had tap dancers, we had a beautiful renewing of our vows. A good friend of mine, Matthew Crouch, his family owns the Trinity Broadcasting Network … he held the ceremony for us. It was cool.
Article continues below advertisement
We had the luxury of having our beautiful boy walk down the aisle with us, and signify how two can become one and become better at the same time. But now we're three.
Leighanne: We had tappers and singers who did a number to Heaven Hop. We had another Frank Sinatra, Dean Martin-style singer, and then we had a dancer. So we had acts in the middle of it all, so it was like being at a Broadway show. When we were eating, we had entertainment. It brought everybody in and made them feel comfortable and not feel intimidated but have a good time. It was important to have people around us and help them enjoy and feel comfortable but also have a good time.
What did you think of the cake?
Leighanne: Our cake was amazing. The gentleman at Classic Cheesecakes, Mark, that did our wedding cake … ever since he did our first cake, he's done all of our cakes since then. He is amazing. He's done Baylee's birthday cakes, our shower cakes, our Christmas cakes. It's amazing. They taste as good as they look.
What flavor?
Leighanne: They had Bailey's Irish Cream. They were all pound cakes – vanilla and a Heath Bar.
Article continues below advertisement
How did the Heath Bar version taste?
Leighanne: It turned out well. This is the first time he'd done it for a party, so it actually turned out well. My pediatrician loved it. laughs He dove right in.
What was the highlight of the evening?
Leighanne: Baylee singing Jackson Five. Baylee got onstage and pretty much stole the show.
Brian: I think the highlight of the evening was the ceremony and the intimate setting of how everything came together, and the whole atmosphere. I think the whole atmosphere about the event set the mood. We had couples who had been married from 55, almost 60 years ... the atmosphere and the ceremony was the best for me because I do choose Leighanne and I will choose Leighanne over and over and over. It was great because it was cool. Like all of our family and friends, I can't wait until our fifteenth or our twentieth when we can do it again because Leighanne can throw a hell of a party, and it was amazing.
How did it feel to have your son on hand this time?
It was great to have him be part of the ceremony. He actually sang a song with the band, which was great. He sang I Want You Back by the Jackson Five, and tore down the house.
The funny thing about it would be the actual reception when we were all in the tent having dinner together, Baylee stands up on stage and he wants to do a few songs. He does I Want You Back as well as Straight Through My Heart from the Backstreet Boys.
Article continues below advertisement
The cool thing for me is everybody comes up to me after I do a song I wrote for Leighanne called Ten that talks about our anniversary. It was written for that very moment. But after I got offstage, everyone's like "that's a great job, you did amazing, you're so talented, but that son of yours is out of this world." I was like "uh-oh, there we go."
Leighanne: Your song was amazing, too.
Brian: It's hard to pick one. The atmosphere that we created for the couples and our guests and our family that was here set the tone for an amazing evening. It doesn't matter what we were doing – we were having an amazing time. Apparently my son stole the show even though it was our anniversary party.
Leighanne and I were going to sing Unforgettable to each other, but it turned out that with preparation and getting ready and putting everything together, it didn't work out. I didn't have time. But I will assure you there will be more anniversary parties in the future, so maybe we'll get an exclusive with OK!
What gifts did you receive?
Leighanne: We asked for no gifts because we have so much, but probably the best thing was people made donations to our Healthy Heart Club for Kids, and liquor. They gave us a lot of liquor. What do you think that says about us? Vodka…
Article continues below advertisement
Brian: Wine, wine holders…
What's the secret to a happy marriage?
Brian: A happy wife is a happy life. laughs
Leighanne: Communication. When we can't be together, we're always talking on the phone. You have to laugh a lot. When Pastor Collins told us – the pastor who married us – he would've been here to marry us again, but he was in Germany – but he told us in the beginning "don't ever go to bed angry." You don't always have to be right. Even if you know you're right, you don't have to say you're right. We always try to practice humility with each other and communication. Always talk and always laugh, because at the end of the day, it wasn't that important.
Brian: Some of the best advice I got from a close friend is marriage is always looked at from the world as 50/50 as to working together to make that 100 percent. My advice that I can share that's not my own but was given to me is marriage should be looked at as 100 and 100 so that you're always giving of yourself, you're always sharing your thoughts and expanding on what Leighanne was saying about communicating and understanding one another is you have to know yourself first before you can know yourself in a marriage. You have to be so giving of yourself in order to give yourself to someone else, so I think having that 100% - and you don't always get there. Marriage can be work, it can be difficult, it can be hard, but I think working through those times makes you stronger as a couple and as a unit.
Article continues below advertisement
Where do you see yourselves as a couple in ten more years?
Leighanne: If we could be any happier, hopefully not adding on again, but here enjoying life. We had more fun at this party than we did at our wedding. Learning to love life and love each other and knowing what's important.
So many people don't value their relationships and their lives, and end up in two or three marriages and miserable. We see each other always improving on our relationship, loving as much as we can and hopefully teaching our son to do the same thing.
He actually got married when he was five because he wanted to be married so bad. His birthday party was a wedding, and believe me, we had a full-on wedding. The pictures are amazing. He married his cousin because jokes you can do that in Georgia and Kentucky. It was the coolest thing.
To know that that's the way he thinks, whatever we're doing, whether we're doing children's album – Baylee has his own career, he's probably going to be in the arts – working as a family, and Brian's solo career, always being together – that's why we homeschool and creating and making positive projects, and hopefully impacting the world in the most positive way we can.
Brian: If it's possible, I know my wife will be much more gorgeous in ten years. She's prettier today to me than she ever has been before. Adding on another ten, she will be even more gorgeous.
Pick up the OK! on newsstands now for exclusive photos from Brian and Leighanne Littrell's vow renewal. The cover line is Jennifer Aniston/"I'm Back With John!"