NEWS
From Backstreet Boys to Men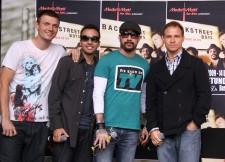 The Backstreet Boys are back... again, with a new album and tour after their 2007 record Unbreakable was released with more of a whimper rather than a bang.
Howie Dorough, 36, says the band has high hopes for its new album This Is Us, which was released last week. But for God's sake, don't call it a comeback!
"That's right, we say don't call it a comeback," Howie tells Reuters. "But I think this is going to be a record that people hear.
Article continues below advertisement
"Our last two were great but came after we took a break and there was a bit of a backlash. People needed a bit of a break from the Backstreet Boys. The last two records were a good rebuilding process and took us to this point."
In their 17-year history, the BBs have had their fair share of turmoil: AJ McLean went to rehab for alcohol and drug addiction in 2001 and Nick Carter was the star of the E! reality show House of Carters.
Meanwhile, Brian Littrell's 7-year-old son Baylee has been diagnosed with the heart condition Kawasaki Syndrome, and Howie lost his sister Caroline Dorough-Cochran to Lupus in 1998 when she was 37.
The fifth member of the band, Kevin Richardson, left in 2006.
How have their life experiences affected the group? "Time has not changed us but it has made us grow," Howie says.
"We have grown into the adults we are now — the fathers, the friends, the entertainers that we are now and the career-minded people that we are."
Article continues below advertisement
And the music? "We have a lot more to write about now with the personal experiences that have happened along the way," says Howie.
"We have also become more seasoned as entertainers. It has opened our eyes and our minds. We're no longer just entertainers but also businessmen and we are finding a healthy balance of career and families."
And despite being well into their thirties, these men have no need to change their name.
"Boys to us has never been an age thing," insists Howie. "If the Beastie Boys and the Beach Boys and Pet Shop Boys can stay boys, so can we."