NEWS
Balloon Boy's Dad Denies Hoax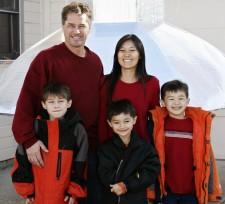 Richard Heene, the shamed father of the "Balloon Boy", says he was convinced his son was in the homemade bubble that lifted off from their backyard on Oct. 15, but pleaded guilty to prevent his wife's deportation. 
In his first interview since being sentenced in connection with the hoax, Richard fights back tears in the pre-taped exchange airing on Friday's edition of Larry King Live, reports Radar Online.
Article continues below advertisement
The father of three says, he "knew his son Falcon was in the craft" as the drama unfolded when his homemade helium balloon soared 7,000 feet over eastern Colorado.
Richard said he "searched the house high and low" as he looked for his son that day.
"I knew he was in the craft in my mind, in my mind, because I visualized him," he tells Larry King in a preview of the interview airing on CNN at Friday 9pm ET. "I yelled at him not to go in."
Richard says he only entered a guilty plea in connection with the incident to avoid the potential deportation of his wife, Mayumi, to her native Japan.