NEWS
Balthazar Getty Talks "Challenging Time" Post Sienna Miller Affair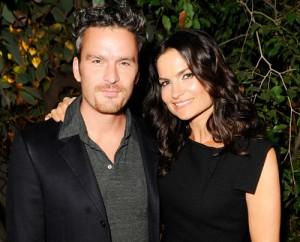 Balthazar Getty is trying to get his family life back on track after his highly publicized affair with Sienna Miller in 2008. The actor — who used little discretion while dating Sienna (recall all their vacation pictures) — opens up to Harper's Bazaar about his lapse in fidelity and reconciling with his wife, Rosetta Getty, who also shares her feelings on the situation.
"Here's the bottom line: It was a very challenging time for everybody involved," Balthazar, 35, tells the magazine about his affair, via Huffington Post, "but I loved and missed my family too much not to make it work. Rosetta is understanding enough and spiritual enough to let us try. In a way it — I don't know ...I feel like we're better than we've ever been."
Article continues below advertisement
OK! GALLERY: SIENNA MILLER IS ON A BOAT
Rosetta, who has four children with Balthazar, explains, "I'm open to talking about it because I believe we go through things in a public way to help other people get through it. I'd love to talk about it more with people when I'm clearer about it," she says. "I'm going to have to explain this to my daughters one day. I chose not to act from ego because I just felt like it would be too crushing for my children."
Balthazar continues to talk about how he is working on his marriage, referring to his tryst with Sienna as a "obstacle."
"You can do two things in life when an obstacle comes your way: You can tackle it, or you can allow it to break you down," he said.
Sienna has rekindled her relationship with ex-fiance Jude Law, who is no stranger to infidelity.
Jude cheated on Sienna multiple times with his children's nanny.
The couple seem to be in complete cahoots with one another, fresh off a PDA filled European vacay.