NEWS
Bar Refaeli Shoots at Paris Hilton's Old Home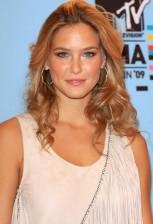 Bar Refaeli smells like J'Adore by Dior.
"I think it suits me," she tells me. "It smells good on me."
For face wash, she swears by Shisheido.
But one area in which the 24-year-old supermodel refuses to splurge is in the unmentionables department.
"I like cheap underwear," she admits. "I never buy expensive underwear. I think it's so unnecessary."
Like every smart shopper, Bar likes to make sure she gets the most bang for her buck, and when it comes to clothing, Bar is all about Rampage. The Israeli beauty shows off in OK!'s exclusive behind-the-scenes look at their spring line, which is featured in the issue on newsstands now.
Article continues below advertisement
"Bar was chosen because she personifies how we see our Rampage customer, which is this naturally sexy, confident, glamorous girl," Dari Marder, chief marketing officer for Rampage, tells me. "These are the clothes that she wears, and it's her lifestyle."
Dari was on hand for the photo shoot, which took place at Paris Hilton's old home in West Hollywood.
"We didn't even prop it," she says. "Everything that you'll see in the photographs were things that were Paris's and the new owner left. He bought all the décor, and left everything. He loved her style. It was a little bit over-the-top. There were chandeliers, mirrored disco balls and hanging silver chains, but it served as a great backdrop for the trendy, sexy styles that we were shooting on Bar."
What might surprise us about the onetime Hilton home?
"The big portrait that Paris had was almost Andy Warhol-esque," she shares. "It was a portrait of her hanging in the living room. It was a giant canvas. It took up the whole wall, and the new owners left it there and have a big spotlight on it."
She adds, "Paris had one room that we all coveted. Everyone was like 'oh my gosh, this is beautiful.' It was a bedroom that Paris had turned into a closet. It had mirrored drawers – everything was mirrors – and it was amazing. Her closet, because it was a former bedroom, had its own bathroom. It was every girl's dream."
Article continues below advertisement
As Bar rocked out to tunes from Madonna and Lady Gaga on set, the supermodel broke out a photo of a special someone.
"She had a picture of her mom, who used to be a model, on her iPhone," Dari shares. "It was an old picture from her modeling days. She was absolutely stunning. We could see the resemblance. There was also a shot that had a photo of Bar in it from when she was a little girl. You can see that beauty didn't fall far from the tree."
Hm, what did Bar look like when she arrived?
"She was wearing baggy jeans and a t-shirt. No makeup. Clean face. Wet hair. And just as beautiful. It's crazy, but she looks as beautiful that way, natural and clean-faced, as she does in our pictures. She's one of those girls. She doesn't need any makeup. Makeup enhances and dresses her look up, but she is a natural beauty."
What is it about Bar that makes her so attractive to leading men like boyfriend Leonard DiCaprio?
Article continues below advertisement
"There's this warmth that emanates from her," Dari says. "It's her beautiful face, and then there's that twinkle in her eye. She's totally approachable, warm and friendly. You don't expect a girl that beautiful to be approachable, engaging and lovely. She's very gracious to everybody, friendly, warm, huggy. She's very, very warm."
Another thing: Bar eats.
"We had a big feast," Dari says. "We were eating well on set. We were eating all day. That's what I love about her, too. She's not an anorexic supermodel. She is a gorgeous, voluptuous supermodel who eats and is more real."
Getting ready for a shoot doesn't come completely natural for Bar, however.
"For four weeks, I do cardio every day, running," she tells me. "Watch what I eat, but not starve myself."
Her technique definitely works.
Pick up the OK! on newsstands now to get Bar's beauty tips and check out her photos from the spring Rampage campaign. The cover line is Jennifer Aniston and Brad Pitt/"Yes! They're Together Again." And, check out Rampage on sale now at Macy's.