NEWS
Bar Refaeli Talks About First Film Role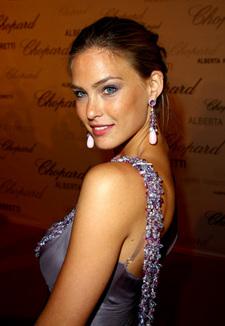 Israeli supermodel Bar Refaeli isn't just another pretty face – Aside from strolling the catwalks in some of fashion's most prestigious shows, Bar told OK! at the Teen Vogue Young Hollywood party that she'll be appearing in a fashion designer Tommy Hilfiger's new show on Bravo, and appearing in the movie Session.
"It's awesome, I'm very excited," she told OK! of the flick. But Bar's on-off boyfriend, Oscar-nominated actor Leonardo DiCaprio, needn't worry about any competition from his camera-friendly gal pal. "I'm just trying to taste everything if I can; if I get the opportunity. I'm still modeling.??"
Article continues below advertisement
Even though she's so busy these days, Bar says she still finds time for everything else outside of her professional life. And while she's not talking about her hunky beau, she does give a few hints as to what she's looking for in a man.
"Someone that can make me laugh," she reveals to OK! "They have to have a sense of humor, they have to be romantic at times, and they have to be a family person."