NEWS
Barack Obama Appears On The Tonight Show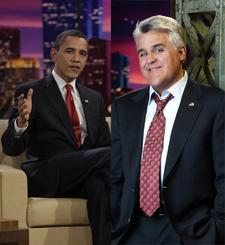 Hail to the Chief! President Barack Obama paid a visit to The Tonight Show yesterday to talk about his new job and digs in Washington D.C.
His appearance was the source of jokes for host Jay Leno. "A lot of people were surprised that the president came to NBC," joked Leno. "You'd think by this time, he'd be tired of big companies on the brink of disaster."
The President was also ready to whip out some one-liners. He likened his new post to a reality show. "I do think in Washington, it's a little bit like American Idol. But everybody is Simon Cowell."
Article continues below advertisement
When he's not busy running the country, President Obama likes to partake in some friendly competition in the White House, although an off-the-cuff remark about his bowling skills—in which he claimed he bowled like a Special Olympian—has sparked some controversy.
Special Olympics Chairman Tim Shriver appeared on Good Morning America stating that he received an apology from President Obama about the remark before last night's show had even aired.
According to TMZ, reigning Special Olympics bowling champ, Kolan McConiughey, says the President will have to do a lot better than a 129 to beat him. On average, McConiughey bowls a 266. "He's cool, but he can't beat me," he said.
When Mr. President isn't bowling, he might be found gathering aides for a friendly game of baseball.
"When they play, do they throw the game?" Leno asked.
The President offered a quick comeback by saying, "I don't see why they would throw the game except for all those Secret Service guys with guns around them."
Article continues below advertisement
He even talked about the perks of the job and his new high-flying mode of transportation, Air Force One. "I personally think it's pretty cool, because they give you the jacket with your name there," he said.
Although the First Daughters, Sasha and Malia, find something else even more impressive--the Presidential helicopter. "Our first time on Marine One and the Marines are saluting us as we board and Sasha looks over and says, 'Are those Starbursts?' "
Watch the interview below:
<object type="application/x-shockwave-flash" data="http://widgets.nbc.com/o/4727a250e66f9723/49c3c43cac16bdb2/4741e3c5156499a7/466133a2/-cpid/87808604619d465f" id="W4727a250e66f972349c3c43cac16bdb2" width="384" height="283"><param name="movie" value="http://widgets.nbc.com/o/4727a250e66f9723/49c3c43cac16bdb2/4741e3c5156499a7/466133a2/-cpid/87808604619d465f" /><param name="wmode" value="transparent" /><param name="allowNetworking" value="all" /><param name="allowScriptAccess" value="always" /></object>