NEWS
Barack Obama "Doesn't Like" His Daughters Watching the Kardashians on TV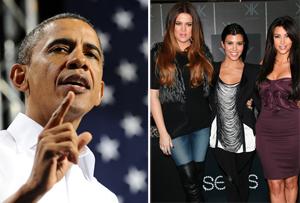 There seems to be a divide between the White House and America's royal reality TV family. First Lady Michelle Obama said in a recent interview that her hubby, President Barack Obama, monitors what his daughters Sasha, 10, and Malia, 13, watch on TV. And the Kardashians are not on the Tivo!
Michelle, 47, told iVillage in a recent interview that her husband doesn't approve of his young daughters watching Kim, Kourtney and Khloe Kardashian's antics on the TV.
Article continues below advertisement
"Barack really thinks some of the Kardashians — when they watch that stuff —he doesn't like that as much," the First Lady said.
While Michelle maintained that it is important to regulate what your children watch on TV, it's also important that they learn from what they are watching.
"I sort of feel like if we're talking about it, and I'm more concerned with how they take it in — what did you learn when you watched that," she explained. "And if they're learning the right lessons, like, that was crazy, then I'm like, okay."
I guess the residents of the White House weren't part of the more than 8 million Americans who watched Kim Kardashian's wedding to Kris Humphries.