NEWS
Barack Obama Tells 'The View': Sasha & Malia Are at "a Great Age"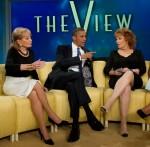 President Barack Obama chatted with the ladies of The View yesterday, giving them the lowdown on the women in his life — first lady Michelle Obama and daughters Sasha and Malia.
In the interview that airs today at 11 a.m. EDT, the president recalls a high point of his month, saying, "A couple of days we took in Maine with Michelle and Sasha and Malia," reports ET Online.
Article continues below advertisement
"We went on bike rides and hikes and the girls are getting old enough now where they're not quite teenagers yet, so they still like you, but they are full of opinions and ideas and observations and it's just a great age.
"Malia just turned 12 and Sasha just turned 9 and it couldn't have been a better couple of days."
OK! NEWS: JOE BIDEN'S WIFE TO APPEAR ON ARMY WIVES
Why did the president choose to appear on The View? "Look, I was trying to find a show that Michelle actually watched and so I thought this is it, right here," he told Barbara. "All those new shows she's like, 'Eh, let me get the clicker.'"