NEWS
VIDEO: Barack Obama Gets Comedic with Jay Leno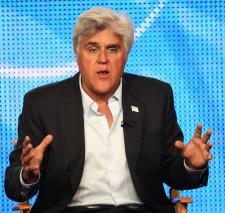 Celebrities from all over headed to Washington on Saturday for the White House Correspondent's Dinner and unexpectedly caught a pretty funny show, as President Barack Obama got a bit comedic with Jay Leno.
"I am glad that only person whose ratings fell more than mine last year is here tonight. Good to see you, Jay. I'm also glad that I'm speaking first, because we've all seen what happens when someone takes the timeslot after Leno's," Mr. Obama joked to Jay, according to E! Online.
Article continues below advertisement
CONAN O'BRIEN: 'JAY LENO SHOULD HAVE GONE SOMEHWERE ELSE'
Here's a snippet of what the President of the United States said during his opening speech.
And, the late night talk show host has never been one to sit down and take a joke without giving a little nudge back, which is exactly what Jay decided to do when it was his turn to take the microphone.
"Some of you in the news have mentioned that the president has been getting a little grey since taking office but he's had his share of stress: tough economy, two wars, healthcare fight, Iran, North Korea, his mother-in-law moving in with him — I think that would break most men," Jay retaliated as the audience laughed.
"Washington is a very scary place between Republicans going to bondage clubs, the SEC looking at porn," Jay added with a smirk, "I can't wait to get back to Hollywood, someplace wholesome where people have values."
THERE'S NO PLACE LIKE HOME FOR JAY LENO
Among the 3,000 people who got to hear the jokes first hand, Alec Baldwin, Kim Kardashian, Justin Bieber, Bradley Cooper, the Jonas Brothers, Scarlett Johansson, Jessica Alba, Judd Apatow, Ryan Seacrest and Merideth Viera were also in the audience laughing along.