NEWS
Barbara Walters Being Sheltered from Regis' Death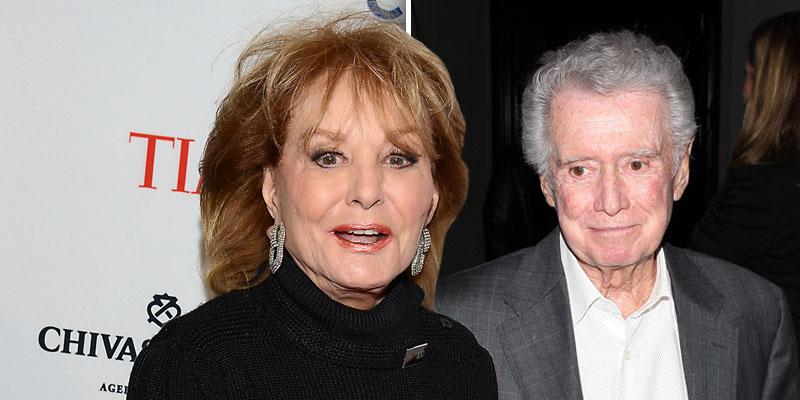 The death of veteran broadcaster Regis Philbin had most of Hollywood paying tribute to the talk show host, but noticeably one voice has not been heard – that of Barbara Walters.
Walters was a co-host on 'The View' from 1997 to 2014, and Philbin was a regular guest on the show. The pair had a bit of a strained relationship over the years, causing some awkward on-screen moments.
Friends, family and former co-workers of Philbin all paid tribute to him on social media shortly after his death was announced, but Walters hasn't said a single word.
Article continues below advertisement
HERE'S HOW HOLLYWOOD IS REMEMBERING REGIS PHILBIN & OLIVIA DE HAVILLAND
That has led to some speculation that Walters is being sheltered from the devastating news that Philbin has died.
The Twitter account of Walters hasn't been updated since 25 September 2017, and the star's Instagram account has been quiet since mid-2015.
Last year, it was reported that Walters has been left wheelchair-bound and hasn't been seen in public for over 3 years following a diagnosis of advanced dementia.
It is now feared that if Walters found out that friend Philbin has died, she would slip into a deeper state of her illness – or worse!
SNUBBED: KELLY RIPA 'NOT INVITED' TO REGIS PHILBIN FUNERAL
At the time an insider told OK! that "Barbara suffers from exhaustion and fatigue, as well as anxiety and agitation." The sources added that she "is very frail and spends a great deal of the day napping!"
In late 2019 a source confirmed that Walters isn't doing so well.
Article continues below advertisement
"There is a chance that Barbara doesn't know about the passing of Regis," a source told OK!
"A lot of her old-friends and people she once saw every day have been pushed out of Barbara's life. Who she gets to see and what she gets to hear is being controlled by the people around her. I wouldn't be at all surprised if they have sheltered from the awful news Regis is no longer with us."