NEWS
Barbara Walters Finds X-Rated Anthony Weiner Photo Flattering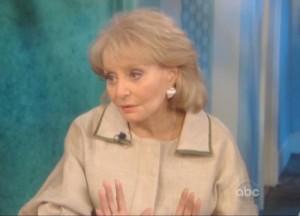 Barbara Walters offered her opinions on Rep. Anthony Weiner's scandal today on The View. And while the veteran TV journalist does not condone the congressman's indiscretions, she still feels he should not be booted from office. Barbara also said that, while his actions may be "unfathomable," the X-rated pics leaked of Anthony are borderline impressive.
While he deserves to investigated, Barbara argued that Weiner should not be ousted just yet.
Article continues below advertisement
"What he has done is unfathomable," Babs explained. "I think the pictures are disgusting, but I think he has hit rock bottom and this may be what he needed so that he changes his life. He has been a good and effective congressman."
Elisabeth Hasselbeck mused that the X-rated photo must be "flattering" if the congressman has yet to deny they were him.
"Let me tell you something," Barbara chimed in. "It is."
Catch the clip, via TV squad, below!