NEWS
Barron Hilton: Out on Bail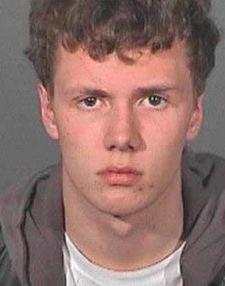 After spending a full day in jail, 18-year old Barron Hilton — brother to Paris and Nicky Hilton — left the Lost Hills Sheriff's Station in Malibu just after 5:45 p.m. PT, after posting bail.
The hotel heir made a quick exit out the back of the station alone, covering his face with a jacket. He got into a waiting silver SUV and was driven away.
Hilton early this morning in Malibu for driving under the influence. Witnesses say Hilton pulled erratically into a 76 gas station, hitting an employee in the leg. That man called the cops and the rest, as they say, is history. The 18-year-old was reportedly also charged with having a fake California driver's license.
Article continues below advertisement
Barron reportedly called his big sis Paris when he was first arrested, asking her to come bail him out. The 26-year old starlet told him no, and said he had to learn his lesson. As a result, baby bro spent the whole day in jail while his friends ran around town looking for a bail bondsman.
His bail was a reported $20,000.