NEWS
Barry Williams Granted Restraining Order Against Girlfriend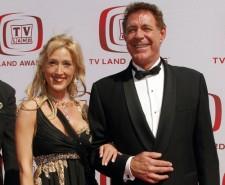 Well this group won't be forming a family: Former Brady Bunch star Barry Williams has received a temporary restraining order again his live-in girlfriend Elizabeth Kennedy, E! News reports. Barry claimed in his court docs that he needed the restraining order due to her being "extremely unstable" and for having "made threats to kill herself in the past and to harm me when she becomes depressed."
The court docs also said Barry claimed that Elizabeth secretively withdrew $29,000 from his bank account after getting his PIN number. He also said she accused him of having an affair with a costar and then attempted to pull a knife on him.
Article continues below advertisement
Barry wants to ban Elizabeth from all forms of contact with him, wants her to hand over the keys their Marina del Rey house and not be allowed within 100 yards of his work, home, or car.
Barry hasn't yet told Elizabeth that their relationship is done and has instead decided to let the court handle the dumping instead.
"I know that she will definitely try to harm me once she is aware that our relationship is now over because of my discovery of her $29,000 theft from my bank accounts and credit cards," Barry wrote. "I know that if she is given notice she will destroy all of my belongings, she will rage against me and hit me, she will use my instrument in the apartment as a weapon against me as she has demonstrated her will and capability in the past."
Well gee, we never thought of it like that before!
The first hearing is scheduled for at Santa Monica Superior Court on Jan. 4.