NEWS
Beach Boys Threaten to Sue "California Gurl" Katy Perry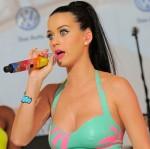 The Beach Boys wished "they all could be California girls" — just not Katy Perry.
OK! GALLERY: KATY PERRY KISSES A GIRL & LIKES IT
Mike Love and Brian Wilson wrote the 1965 hit "California Girls" and their reps at Rondor Music have sent a letter to Katy's label, Capitol Records, demanding they be given credit and money for Katy's song, "California Gurls."
A record industry source told Page Six, "Rondor Music has sent a letter to Capitol on behalf of Mike Love and Brian Wilson, saying Katy has cribbed one of the most famous lyrics in history, so Love and Wilson should be entitled to a writing credit and a portion of the royalties," a record industry source told the New York Post's Page Six.
Article continues below advertisement
OK! NEWS: KATY PERRY BARES ALMOST ALL ON THE BEACH
Apparently the issue is that Snoop Dogg says the Beach Boys' classic line, "I wish they all could be California girls" and the end of the song.
But reps for Mike and Brian say it was Rondor's idea to take action against Katy.
"Rondor owns the track and called Brian and Mike, saying they were going to complain," Brian's rep said. "Brian likes Katy's record and doesn't know where the situation stands."
"Mike and Brian wrote the song... but any legal action is up to Rondor," Mike's rep added.
OK! VIDEO: KATY PERRY PREMIERE'S "CALIFORNIA GURLS" IN "CANDYFORNIA"
And both Beach Boys had said before that they were flattered by Katy's song after she said it was a tribute to them.
"The subject matter is still in vogue — just ask Katy Perry. I think the part she did is pretty cool," Mike told Billboard. "There are a lot of writers on it, and I think it's probably a stroke of genius to have the king of canine cool, Mr. Snoop Dogg, do his thing. But I think her creative part, her musical part, is pretty hooky. I think it brings the Beach Boys' 1965 classic to mind, that's for sure."