NEWS
Beach Bum Backs Lindsay Lohan; Tanning Salon Rallies for Famous Client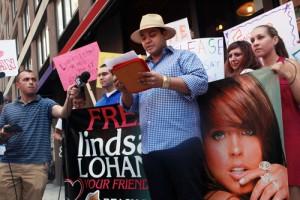 Those responsible for Lindsay Lohan's spray tan are really missing the socialite while she spends her days in the slammer. The "Free Lindsay" rally was held outside Beach Bum Tanning Salon on Tuesday in NYC in honor of their loyal customer. Employees carried signs and picketed for LiLo's speedy release from jail.
James Oliver of Beach Bum Tanning Salon — who has kept the Lohan family bronzed for over a decade — organized "Free Lindsay" rally to support the troubled starlet.
Article continues below advertisement
Beach Bum held a similar rally in 2007 when another one of their high profile clients, Paris Hilton, did jail time after being sentenced for a DUI.
Lilo and the entire Lohan brood are loyal customers at the tanning salon chain.
According to a press release, the salon "hopes its campaign will draw awareness to the harsh punishment inflicted on Lohan due to her celebrity status and that she will be released from jail before her 90 day sentence reaches completion."
Article continues below advertisement
Beach Bum has also drawn attention to the fact that Lindsay was ordered to serve twice the time Paris was sentenced back in 2007 for a similar probation violation.
Lindsay surrendered to a 90-day sentence behind bars on July 20 in Beverly Hills. She is currently serving time at the Lynwood Correctional Facility in southern California.
It is widely believed that she may be released early due to overcrowding at the jail.
Looks like Beach Bum will be happy to help her bronze-up, after her time in jail must be making the socialite look a little pale!