NEWS
Beat the Winter Blues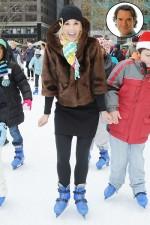 Team OK! expert Eric Viskovicz shares 5 ways to beat the winter blues.
1. BE BRAVE: TRY SOMETHING NEW
Only bears should hibernate in the winter. Sprinkle your date book with fun things you've always wanted to do (skating perhaps?) and the long, grueling months will fly by. "You have to find new things to do and find purpose in the activities you already do," says Eric Viscovicz, president of L.A.-based Live-in Fitness Enterprise (L.I.F.E.).
Article continues below advertisement
Elisabeth Hasselbeck braves the frosty climate and ice!