NEWS
Beat the Winter Blues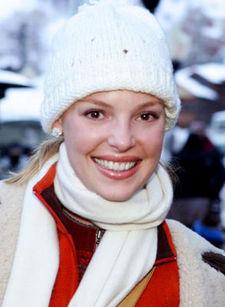 January is in full swing, and although for some, like Kate Hudson and Heidi Klum, it means hitting the slopes, for other is means winter blues. Dr. Laurie Nadel, who offers nationwide counseling for seasonal affective disorder (SAD) explains, "SAD is a depressed state that affects us during the winter." But it's not just the cold weather that gets us down: The shorter days lead to an actual medical condition. "Research shows that the pituitary gland does not get enough light to stimulate the production of what the brain needs to make serotonin, which keeps us feeling upbeat." So if the onset of cold weather makes you feel sad and reclusive, here are some ways to cope.
Article continues below advertisement
Say no to comfort foods: Although sitting on the couch with a pint of Ben & Jerry's may seem like the only thing that will make you happy right now, it's just a temporary fix! When you gain 15 pounds in three months, you'll have even more to be depressed about.
Take in the sun: Getting outdoors and being in the sunlight will help lift your mood. According to studies, an hour of bright light can do wonders. (Some people even buy a light box!)
Laugh out loud: Rent some funny movies and snuggle on the couch. Dr. Nadel says it can help. "There's an old saying, 'Laughter is the best medicine,' and it's especially true for depression."
Seek help: If your depression seems severe and you can't find anything to smile about, consult your doctor. There is hope! Therapy and/or prescription medication can help you get back to feeling good.
Challenge yourself: If you can stand the cold, challenge yourself to learn a winter sport. Whether it's skiing, snowshoeing, snowboarding or ice skating, you may find a new sport to diminish your dislike of the season.
Article continues below advertisement
Talk it out: One of the main symptoms of depression is wanting to isolate yourself from the world. But that's not helpful, says Dr. Nadel. "When you are alone in your depression, it is easier to get stuck in negative thinking. Talking to someone supportive is the best remedy."
Get out of town: This isn't always feasible, but escaping somewhere warm, even for a short period of time, can elevate your mood tremendously.
Pamper yourself: Get a massage or light a room with candles and totally relax. Aim for anything that will have you feeling good both inside and out.
Things are looking up: Dr. Nadel suggests shifting your gaze. "Look at the ceiling. When your eyes move up, your attention shifts out of the emotional brain, taking your mind off depression. Literally."