NEWS
Beckham Boys Have Bieber Fever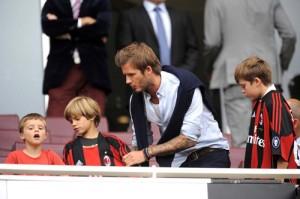 The latest celebrities to catch Bieber Fever — the Beckham Brood! That's right, David Beckham and Victoria Beckham's children love Justin Bieber. The pro soccer dad shares that sons Brooklyn, 11, Romeo, 7, and Cruz, 5, are super-fans of the Canadian teen singing sensation.
"Justin Bieber's the one for them," David told Access Hollywood backstage at the Teen Choice Awards in L.A. Sunday night.
Article continues below advertisement
The Beckham brood caught one of JB's concerts and the 16-year-old's stage antics made a big impression on the boys!
"Seeing him perform and seeing, you know, the performance he put on — they love him," David added.
David also shared his favorite part of the TCA's — when Betty White danced with Sandra Bullock on stage. (The duo won the surfboard for Choice Movie: Dance)
"That was the best part of the night for me… There have been great parts of the night all the way through, but seeing Sandra and Betty…. Obviously, they are two absolute legends and to see what they did was very funny."
David didn't leave the show empty handing, accepting the TCA for Choice Athlete.
This is the third surfboard the pro soccer player has won, and he is honored to add it to his collection for his boys.
"Three times I've won it now. So each of my boys have got a surfboard. So, I'm happy," he said