NEWS
Becki Newton's new gig?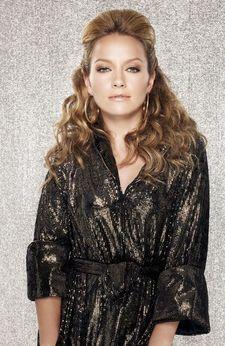 Last season on Ugly Betty, we got to hear fashion-obsessed Amanda Tannen's melodic prowess when she sang for her faux dad Gene Simmons.
While Amanda may not be Broadway-bound, her portrayer, Becki Netwon, wouldn't mind taking the professional plunge.
The actress recently serenaded fans again with her killer pipes in a one-off charity performance of the classic show tune, "Getting Married," with Betty costar Michael Urie.
Article continues below advertisement
She then revealed to our roving reporter, OK!'s Oliver Coleman, that she originally moved to New York to pursue her dreams of starring in musicals, but the Great White Way wasn't in the cards for her.
"I grew up doing musicals in high school, and I came to New York to do musicals," she told OK! at a tasting of Martini and Rossi's new sparkling rosé at a W Hotel in Manhattan.
"I didn't really make sense to a lot of people because I have a very high voice, and I love doing character parts. Those two things don't really go together," she admitted.
"I also can't dance. I can barely walk and sing without falling."
There's hope yet!
Becki thinks that the exposure she's had on Betty might have moved her a step closer to achieving the dreams she had back in high school.
"I think now I'd maybe have more access to more parts," she said.
Ugly Betty is taking a hiatus beginning March 26. Are you listening, Broadway producers?
Catch Ugly Betty Thursdays at 8 p.m. on ABC.