NEWS
Becks Plays Photographer on Spice Girls Tour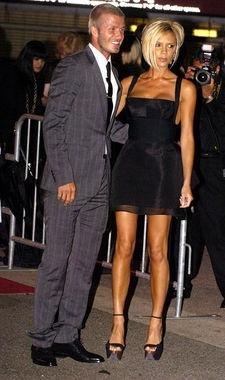 Now that he's done on the soccer field for the season, David Beckham has found a new gig to fill up his free time — photography. The soccer Adonis is playing cameraman on the Spice Girls tour, Geri Halliwell tells Extra.
"He's our tour photographer," she says, adding that Becks has surprised all the girls with diamond-studded bracelets as a kick-off gift.
The 32-year-old hunk isn't the only Spice family member on tour — all seven Spice kiddies are hitting the road with their famous mamas as well, leading Geri, 35, to liken it being "the Waltons on tour."
Article continues below advertisement
"It's been so nice for all," Victoria Beckham says. "All of our kids have been joining in with the singing lessons, dancing. It's just been great and I think none of us could have done it if we hadn't had all of our family with us. It's what makes us happy."
The girls kickstarted the tour on Sunday in Vancouver with their signature hits and trademark poppy dance moves — a far cry from the Latin and ballroom techniques Melanie Brown mastered on Dancing With the Stars, but don't think she's going to try to one-up her friends.
"We're all different in our dance style," she says. "That's why we all fit together."
For more on the Spice Girls, tune in to Extra tonight!