NEWS
Behind Closed Doors With Britney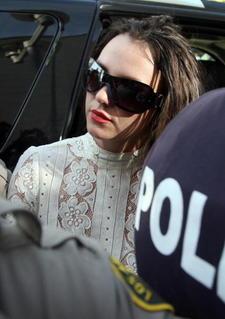 Though just about everything Britney Spears does in public is well-documented, little is known about what goes on behind the doors of her home inside her gated community. And now that the singer appears to be keeping a low profile following her release from UCLA Medical Center on Wednesday, even less is known about her current mindset.
However, hairstylist Kim Vo, who has been working on the singer's locks since about the time of the infamous head-shaving incident last winter, spent four hours inside Britney's home yesterday, tending to her tresses and chatting it up. And in an exclusive interview set to air tonight on E!'s Daily 10, Kim reveals that the singer is much more in control of her senses than folks are giving her credit for.
Article continues below advertisement
"She's really a brilliant girl," says Kim, who arrived at Brit's house Thursday afternoon to find her mother Lynne Spears and her best friend Jackie and two security guards inside. Kim says the singer couldn't have been more polite and was a "true Southern woman."
Kim, who also worked on Lynne's hair during his visit, says that, despite reports of tension between Britney and her mom, he saw no evidence of a rift.
According to Kim, Britney, who made a phone call to her little sister, Jamie Lynn, told him she wanted to change her image and wanted her hair longer and sexy. Kim then told her to "put the wigs away, this is crazy. You don't want to be crazy!"
For the entire interview, tune into Daily 10 tonight at 7:30 p.m. on E!