NEWS
Behind the Lens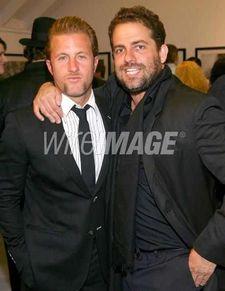 Funny story:
Sometimes I take photographs of pretty street scenes that catch my attention with my blackberry, since it's always (for better or worse) in-hand. Whether it's a person waiting at a light, a dog walking its owner - or a boy biking down a pretty street, I like to capture moments.
So, it wasn't so out of the ordinary that mixed in with the many streetscapes on my blackberry photo album was a one of a pretty street scene with a boy riding his bike down the middle. What was odd – is that when often complimented on the photo, I couldn't for the life of me remember when or where I took it. But, since it was in my phone among the rest of my photos, I figured I must have some time and since it looked a bit European, I decided it must be from one of my favorite Paris-esque looking streets in NYC's West Village.
Article continues below advertisement
When my photo album began to get cluttered, despite loving this photo, I eventually deleted it as if I didn't even remember taking it, it had the least memory attachment to it.
Imagine my surprise when a few weeks ago I walked into a gallery where Brett Ratner was hosting a party celebrating Scott Caan's first coffee table book of photography (which Brett published) and saw the photo from my phone!
Then it came flooding back. One year prior we were at Scott Caan's gallery exhibit in Malibu and a friend asked me to take a photo of the photo so that she could send it to her parents to add to her birthday wish list. The shot was so perfectly framed that you couldn't see the frame and for a year I'd been claiming Scott's photo as my own – and won raves from everyone who saw it.
There was some closure when I spoke to Scott at the book party and was at least able to learn the photo was taken in Holland. Nope never been there, yet.
Scott's book, Scott Caan's Photograph's Volume 1 is full of similar captured moments ranging from the street scene – to behind-the-scenes of movie premieres like Ocean's 11 in Cannes and some of his other famous friends.
Actor, writer, director, photographer and legacy Scott Cann is a jack of all trades – and master of many.
Article continues below advertisement
If you're in the Southern California-area tonight, Scott and Brett will be at VromanBookstore in Pasedena signing copies – and you may even be able to get a question in yourself. Otherwise, you can be like Sheryl Crow, Jeremy Piven, Ali Larter, Jamie Lynn Sigler and Shoshana Bush who purchased at the party, and buy it yourself online at: http://vromansbookstore.com/brett-ratner
I won't be there as I'll be celebrating the Laker NBA finals victory at Nokia LIVE downtown, but I'll leave you with a quick chat I had with Scott at the book party ;) xo
SCOTT CAAN
How did you get into photography?
I was directing my first movie, Dallas 363, and my cinematographer, Phil Parmet, was a great photographer and started teaching me about cameras and then I got a camera as a gift and just started using it all the time. It happened really naturally like that.
What's your favorite thing to photograph?
I like to travel and go into interesting, cool neighborhoods and seeing cool people, different than the people I see here in LA.
Article continues below advertisement
If you could photograph anyone in the world, who would it be and why?
That's not really the type of question you can snap right off and if I gave it some thought, I'd probably have a much better answer, not that this one's not good, but I'd love to take photos of Sean Penn. He's always been someone who's been really interesting to me, so I'll say Sean Penn.
Do you know Sean Penn?
I've met him.
How do you feel about Brett Ratner being the one who publishes your first book?
He's my hero for putting out my book.
What's your favorite piece?
There's a photo of some kids playing basketball and a sign in front of it saying "No Guns…' I really like that one.
Do you have your prints hanging in your house?
No. I have a good collection of other photographers on my wall, but I don't hang my own stuff.
How often do you take photos?
If I'm traveling I'm taking photos all the time, around LA not as much.
Where's your favorite place to travel?
South America. I really like Costa Rica and El Salvador.
You've done music, photography, you've written movies, acted in them, directed them, which do you feel you excel in the most?
I want to do everything. I like directing a lot. I like to write something, and then direct it and take a bunch of photos for it.