NEWS
Behind a Name: Suri Cruise Revealed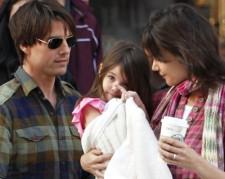 Celebrities love to choose unique names for their little ones. Apple Martin, Zuma Rossdale, and of course Suri Cruise are just a few examples of exotic celeb baby names. Tom Cruise and Katie Holmes received a lot of attention for their choice of Suri in 2006. According to the NY Post, the couple might have thought twice about choosing the name for their daughter had they known it means "pickpocket" in Japanese, "turned sour" in French, and "horse mackerels" in Italian.
Article continues below advertisement
The London-based translation firm, Today Translations, checks the meaning of baby names in other languages for parents-to-be. But the service will cost you: For $1,678, the company's linguists will carry out a 'basic name translation audit' of names, checking the meaning in 100 languages, or more for an additional cost, Reuters reports.
Another investigation concluded that while musicians Gwen Stefani and Gavin Rossdale may have known Zuma (now one year old) meant "peace" in Arabic when choosing their son's name, they may not have been aware it also translates as "Lord frowns in anger" in the Aztec language of Nahuatl.
Tom and Katie fell in love with the name Suri after reading it in a baby book before the birth of their daughter. It means "princess" in Hebrew and "red rose" in Farsi.
These translations are best fitting for the three-year-old. The celeb couple adore their little rose, treating her like a princess!