NEWS
Behind The Scenes on Daughtry Photo Shoot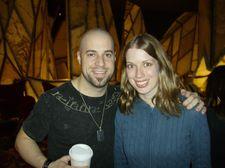 I trek up to Connecticut's Mohegan Sun to interview Daughtry when the band is in town to open for Bon Jovi. Questions about American Idol are off-limits, and , who has a bodyguard, makes nice with a tight-squeeze bear hug after tempers flare.
Backstage at Mohegan Sun Arena, he sips Red Bull and bonds with group members including mohawked bassist Josh Paul, drummer Joey Barnes, rhythm guitarist/vocalist Brian Craddock and lead guitarist Josh Steeley.
Article continues below advertisement
When Chris realizes their Starbucks drinks aren't in place, he freaks out. "So, who's getting fired today, boys?" he says. "Todd gets fired every day, and we rehire him just because we love him and he's willing to make changes."
Finally, Starbucks coffees arrive at 2:04 p.m. — just before the photo shoot begins. The setup is the band sitting with drinks in a bar, but the manager puts the kibosh and orders the drinks be removed from the shot. "I've never seen them with a drink," the manager says. "They have little kids. It's not an image they want to project."
A member of Daughtry's camp tells me he calls his kids every day at 6:30 a.m. to tell them to have a good day at school. "I've never met a nicer guy," he says.
Here comes the stylist primping the guys' mugs with blue rice paper from Japan. Oops! The blue is rubbing off.
Josh Paul says I look just like his sister Kimberly, and rattles off his resume as having played for Suicidal Tendencies, Kelly Osbourne and Ashley Parker Angel.
's Thousand Miles plays as we move to another location.
"Are you taking a picture of my package?" Chris jokes to our photographer while lounging out on a red seat.
He waves as he makes a getaway in the elevator. It's sound check time…
Check out Daughtry's Quick Chat in the OK! on stands now. "Shiloh and Suri: Big Girls Now!" is the cover line.