NEWS
Behind the Scenes at the Project Runway Fashion Show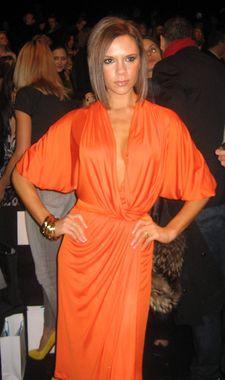 Being the TV Fanatic, I got to attend the coolest event during Fashion Week, the Project Runway Finalist Fashion Show. I could hardly contain my excitement as I slipped into my black H&M shift dress (I did have it tailored to fit perfectly), and headed to the tents.
It was a madhouse, but I slipped through effortlessly. Okay, I squeezed my way through the crowd to the gals with the clipboards – an advantage to being a mere 5 ft. Upon entering the tents, I ran into a very pregnant Ana Gasteyer of Saturday Night Live fame. She told me that she was getting ready for baby number two by "carving out a corner in the bedroom where the baby will sleep." Ah, the space plight of the small New York city apartment!
Article continues below advertisement
Lipstick Jungle's Lindsay Price was also in the house the day after her new series had premiered. "We're so excited, but it's a little bit scary. We feel like we're all exposed," she shared. Yeah, but you get to kiss Andrew McCarthy! Lindsay laughed. "We both get a little caught up in the moment because we're both so rooting for Joe and Victory," she said.
We were instructed to take our seats, a ruse to clear the floor so the finale's surprise celebrity guest judge, none other than Victoria Beckham, could make it to the stage. (Read more about what she thought of the show ). But it was a free fall once the show ended. I managed to get within inches of Posh Spice herself, only to be yanked back by a burly photographer. I had a word or two for him!
All three past winners of Project Runway were in the house and shared their predictions of who would take top prize. For season three winner Jeffrey Sebelia it was Sweet P, season one winner Jay McCarroll was rooting for Christian and cutie second season winner Chloe Dao had her cards on Rami or Jillian.
As for myself, I'm rooting for Sweet P. There's something about the underdog I can't resist. Plus, I could actually wear her clothes once I shrunk them to my size in the dryer.
Catch Project Runway on Wednesdays at 10 p.m. on Bravo.