NEWS
Belgium Concert Stage Collapse Kills At Least Four; Jared Leto Begs Fans to Stay Safe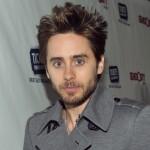 At least four people have been killed at the Belgium Pukkelpop music festival after a storm hit Hasselt, Belgium and knocked down several stages. Jared Leto, 30 Seonds to Mars frontman, was begging fans to stay safe during the violent storms.
NEWS: SUGARLAND CONCERT STAGE AT INDIANA STATE FAIR A "FLUKE EVENT" SAYS GOVERNOR
According to the BBC (via Access Hollywood), strong winds hit the festival around 6:15 p.m. local time and knocked over trees and stages. At least four people have been reported killed.
Article continues below advertisement
This is the second stage collapse this week that has caused deaths at concerts. Five people were killed at the Indiana State Fair when a stage collapse just before Sugarland was set to perform.
NEWS: SUGARLAND'S KRISTIAN BUSH SAYS HIS HEART IS "TOTALLY BROKEN" AFTER INDIANA STATE FAIR TRAGEDY
Jared Tweeted about the destruction and asked fans to take care of themselves.
"CRAZY STORM AT PUKKELPOP IN BELGIUM - NOT SURE WE WILL BE ABLE TO GO ON STAGE - STAYED TUNED. SAFETY FIRST," Leto Tweeted on Thursday evening as the storm started to hit.
A half hour later he added, "FOUR STAGES DOWN - STILL RAINING + THUNDER IF YOU ARE HERE PLEASE BE SAFE."
Unfortunately, there were injuries.
"SERIOUS INJURIES AT THE FESTIVAL," Jared Tweeted. "MORE BAD WEATHER POSS HEADING THIS WAY. PLEASE TAKE CARE AND CAUTION."
"PUKKELPOP UPDATE: Two confirmed dead. 40 at the hospital. Sending our thoughts and prayers."