NEWS
Sugarland's Kristian Bush Says His Heart is "Totally Broken" After Indiana State Fair Tragedy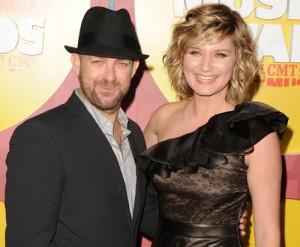 Jennifer Nettles has already shared her thoughts on the tragic stage collapse during their show at the Indiana State Fair over the weekend, and now the other half of the Sugarland duo, Kristian Bush, has commented on the country group's blog post-freak accident — which took the lives of five people.
"Our fans just came to see a show, and it ended in something terrible," Kristian wrote on Sugarland's website. "My heart is totally broken for the families and friends of those who lost their lives. It's broken for all the people who got hurt, for the people who were scared."
Article continues below advertisement
Sugarland also issued a statement about their plans for a memorial concert.
"We are in the process of planning a private memorial in Indiana, to honor those fans who died," the band said in a statement on its website today. "We would first like to hold space so that their families can have time to go through their own services and memorials."
"Until that time we are holding vigil for them," the statement adds. "We join them on their mourning benches."
Article continues below advertisement
The tragic stage collapse occurred Saturday night at the Indiana State Fair, killing five Sugarland fans and injuring more than 40 other concertgoers.
The governor called the catastrophe a "fluke event" and praised all of those who responded in the rescue efforts — from trained medical professionals to ordinary Hoosiers.
Just minutes before the stage toppled, the National Weather Service issued a warning about an intense storm with high winds. The gusts that caused the collapse were estimated to have been between 60 and 70 mph.
Sugarland's next scheduled concert stop is Thursday in Albuquerque.