NEWS
Beloved Hollywood Comedian Charlie Callas Dies at 83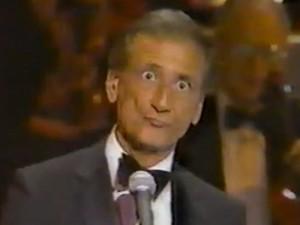 Comedian Charlie Callas, beloved by American variety and talk shows in 1960s, '70s and '80s, passed away yesterday at the age of 83.
Charlie was know for his fast-paced speech, often incorporating a stutter into his routine.
He was a favorite guest of Ed Sullivan, Jackie Gleason, Merv Griffin and Johnny Carson as well as a regular on The Andy Williams Show and The ABC Comedy Hour, The New York Times reports.
Article continues below advertisement
He gave his zany antics a rest in 1975 starring in the crime show Switch.
"There were two things he could do that made his career," Tony Belmont, executive director of the National Comedy Hall of Fame in St. Petersburg, Fla., said in a recent interview, via The New York Times. "He could think very fast on his feet, and he had an unbelievable number of sounds that he made with his voice."
Belmont added: "He would tell a joke about two guys hunting. If you or I told it, the joke wasn't so funny. But Charlie made it hysterical by sticking in these sounds; so you would hear the gun cocking, the duck flying overhead, the explosion of the shotgun and then the duck falling and screaming all the way to the ground."
Johnny Carson had Charlie do his stand-up routines on the Tonight Show nearly 50 times, until Sept. 21, 1982, when the pals ended their relationship. When Johnny interjected during Charlie's routine, the comic reacted rashly, shoving the host, causing a rift between the two.
Article continues below advertisement
He may have not appeared on the Tonight Show anymore but Charlie was always welcome at big time celebrity roasts, leaving crowds in stitches every time! (See his Dean Martin and Don Rickles' roasts below).
Remember Charlie's career in the clips below.
Catch Charlie Callas in his true comic fashion on the Tonight Show with Johnny Carson.
Charlie roasts Dean Martin.
Charlie roasting Don Rickles.