NEWS
Ben Affleck, Blake Lively Share Mutual Lovefest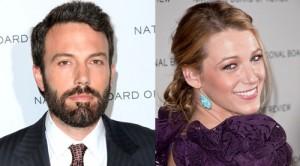 Ben Affleck and Jennifer Garner stick to their policy of never posing together this week at the National Board of Review of Motion Pictures Gala in NYC, but he looks enamored to be photographed with The Town co-star Blake Lively.
The Oscar winner dismisses what Jen thinks of his beard, telling me, "you'd have to ask her, I don't know." And when asked whether daughters Violet, 5, and Seraphina, 2, would be allowed to act, he shoots down the question, saying, "I don't want to answer that."
Article continues below advertisement
SEE PHOTOS FROM THE NATIONAL BOARD OF REVIEW OF MOTION PICTURES GALA!
But the actor and director is happy to gush about the Gossip Girl star, 23, who has been spotted with Leonardo DiCaprio after her split from co-star Penn Badgely.
"Blake's such a wonderful actress," Ben begins. "I can't think of somebody who I would have more faith in, in her generation. I think she's just remarkable, and she's going to have a big career. She came in, and I didn't know who she was. I wasn't aware of the television show Gossip Girl, and she just read … and I had been reading every actress from 40 to 20 for this movie. A lot of great actresses, and she just killed it."
He continues, "She was so much better than anybody, and I was like 'who is this person?' Then, I was really happy to see that because she had one image on the show, to also see her to do something surprising for her audience -- to play a completely different character. She's great. She's going to have a huge, strong, great career, and I'm just happy to be a small part of it."
Afterwards, Blake stammers through her sentences when asked how she achieved her Boston accent – and what it was like working with Ben.
Article continues below advertisement
"Uh, I don't know, a lot of time in Boston," she says. "This role was just, um, such an incredible role. There shouldn't be too much credit given to me because it was so beautiful on the page that it was, um, so much to do with it, that um, all you had to do was just do a little bit of research, so um, I don't know, I was lucky that was able to, uh, to win him over."
What was Mr. Affleck like as a director?
"He's an incredible director," she says. "He's so patient and generous with his actors, and coming from somebody who really had no idea what she was doing, I really appreciated that. "
Hm, if I was Blake Lively, I don't think I would belittle my acting skills like that. After all, she's been on a popular TV show since 2007, and she's starred in a few major movies since 2005.
For more on Ben, pick up the OK! on newsstands now. The cover line is "Teen Mom Jenelle: Losing Her Baby Forever." And, catch Ben and Blake in The Town, which is out on DVD now.