NEWS
Ben and Ronnie Speak on Their Bromance!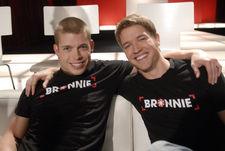 Holly may have won Make Me a Supermodel, but the real drama came courtesy her male competition. After watching the season's final episode I just had to know what's going down with Ronnie and Ben and his adorable wife April. Did a reality TV bromance kill their love?
"My wife and I are fantastic," Ben declares, brushing off his casual greeting when April arrived on the models' doorstep during the finale. "Some people made fun of me for that, but that's how I am with my wife... April is a part of me, and she's been really strong and courageous. She said I was brave for going on this show, but I think she was brave for letting me go for three months."
Article continues below advertisement
More than brave! April and the rest of the Supermodel viewing audience watched Ben and Ronnie, who is openly gay, get mighty close in many an episode. Ronnie cops up to having a puppy crush on the former prison guard and admits it was a little awkward when he finally met the objection of his affection's spouse. "But it was helpful when she said, 'I want a Bronnie T-shirt too,'" Ronnie says. "She thought it was adorable. She's such a cool lady."
Solo Ronnie won't have to worry about being single much longer. "I've definitely gotten a lot of proposals for marriage from guys and gals all across the world. It's very flattering, to say the least," he tells me. For interested parties who also want to pop the question, Ronnie says he's looking for a partner who is, "self-motivated, takes initiative and is passionate about life."
Ronnie and Ben both plan to continue their modeling careers, most likely with New York Models, the company that worked with them on the show. Ronnie's hoping that he'll be able to travel more and appear in an Abercrombie & Fitch ad campaign. Ben will know he's truly arrived when he can once again model for his favorite designer Dolce & Gabbana. (He wore their clothes in the finale.) "That is my trophy right there. If I can do that, I'd be a very happy young man. They're so edgy and their clothes are fantastic. Although I was a jail guard, I knew a little bit about fashion," he laughs.