NEWS
Ben Stiller, Christine Taylor Say 'Two Is Enough'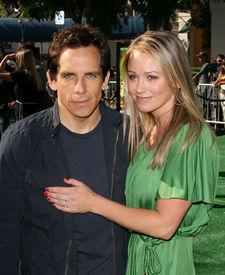 Ben Stiller is riding high with his #1 box-office hit Madagascar 2, but he's still just dad to daughter Ella, 6, and son Quinlin 3, with wife Christine Taylor.
"They're incredible," the actor, 42, says. "They're ridiculously cute at six and three, and every moment is a joy and a wonderful challenge that people who have kids can only understand. It's the best."
Christine doesn't let a simple time change get in the way of keeping up with her kids. While in New York, the 37-year-old mom says, "I keep my watch set to L.A. time so I know where they're at at every moment."
Article continues below advertisement
Her mother-in-law, Anne Meara, has high praise. "She's the best mother in the world."
Still, two kids are just right for the couple who wed in 2000. "I'm happy where we're at right now," Ben says. "Two is a handful. I feel very fortunate and blessed." Christine seconds, "Two is enough for now. Three's off."
One playmate the youngsters cherish is Suri Cruise, daughter of Tom and Katie.
"We don't really set up those playdates," Christine tells me. "If it happens, it's wonderful and nice, but they're all kids and they have no idea. They're all happy. They're all just little. They just want to do their thing. Play dolls and have snacks and take a nap."
For Christine, the best thing about motherhood is giving back.
"It's the most selfless thing ever, and it takes me out of all the craziness in my own head," she says. "I can put it on my children, and hopefully not put the crazy in them."
And, the best thing about being married to Christine?
"Just being able to hang out with that person points to Christine all the time," Ben says. "You should say as he motions to his beautiful wife."
"It's nice you asked the question," Christine adds. "He's the best husband in the world."
Madagascar 2 is in theaters now.