NEWS
Ben Stiller's Kids Call Grandpa 'Mr. Kinichi'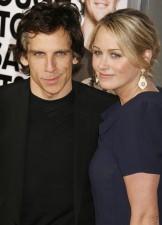 Ben Stiller and Christine Taylor have A-list babysitters in his actor dad Jerry Stiller and actor mom Anne Meara. When the couple who married in 2000 want a night out in NYC, they can pack up their kids Ella, 7, and Quinlin, 4, and send them over to visit.
But just because Jerry and Anne are grandparents doesn't mean they're traditional.
"When I'm with Ella and Quinlin, they have a name for me: for some reason they call me Mr. Kinichi," kind-hearted Jerry tells me.
Article continues below advertisement
Why?
"I just find that being a grandfather, I feel I'm a little too old to be a grandfather, and I hate the name 'grandpa,' so they do call me Mr. Kinichi. The fact that they observe that protocol makes me feel good. They're very bright."
What are the kids into these days?
"Ella's close to 8, he's 4, and we play. They have a train set – the Thomas trains. Whenever they're setting up the trains, I too, love the show that's on the air on PBS dealing with the Thomas trains. I try to hum with them."
He continues, "When I'm with them, they like to read stories to me. That's one of the nicest things that a grandfather can have. I don't have to read to them – they sit me down and start doing stories, and they listen. And Ella has a house. She shows me what's in the house – it has a kitchen, and how she can cook. Quinlin is a wonderful swimmer. He loves to show me how well he swims. Nobody ever taught him. He's another Johnny Weissmuller if there ever was at that age, I can't get over him."
Article continues below advertisement
They also like to head outside.
"If I ever get a chance when we are together, I'm on the playground with them and they like to go into the wading pond and I watch them running around, swinging on swings – doing all the things I did with Ben and Amy, and this is the same playground oddly enough on the West side of New York."
The kids aren't always easy to please.
"They have an interesting way of dealing with me. When they get bored with me, they just leave me alone. I never saw kids who turn off and turn on so much. When we're in the car, and we're riding and things get boring, I always do Row, Row, Row Your Boat with them, with everybody doing their parts. They got into that."
When Ben and Christine's brood is based in L.A., the kids have fun with their aunt Amy.
"Ella usually orchestrates things," Anne says. "They had a song contest. They made Christine judge it."
Why do Ben and Christine make a great couple?
"They're both actors, they're both in a very tough business," Jerry tells me. "They want to be parents, and they're able to navigate through this crazy business pretty well. Somewhere along the line they've made it work. I don't live with them, so I can't tell you what's happening, but they're still in love. That's all Anne and myself pray for – that they stay that way forever, and in a very difficult, crazy business that can be very tempting and with all the stuff that goes on, they've managed to hang in there."
Being Ben's dad definitely has its perks.
"I love the fact that he does things on the screen, and they hire me," Jerry tells me. "I can't get over the fact. I never want to be in any of those movies, and he says 'I don't want you – the producers want you.' I've been in a number of his films, and I'm always shocked that I'm in it. My God, isn't that nice to have your own kid want you onscreen."