NEWS
Benjamin Millepied Leaves Ballerina Isabella Boylston for Natalie Portman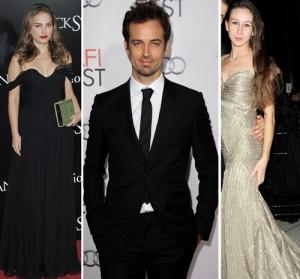 Although Natalie Portman, 29, is "indescribably happy" about her engagement to 33-year-old French dancer Benjamin Millepied, the one person who is heartbroken is his former longtime, live-in girlfriend, dancer Isabella Boylston. Just a year ago, Isabella and Benjamin were traveling the world together and in love.Benjamin and Isabella had an apartment in NYC's East Village. In August of 2009, the couple and a group of friends vacationed in Martha's Vineyard together. A September interview with Benjamin in The New York Observer noted that he had also recently taken Isabella on vacation in the Caribbean.
Article continues below advertisement
"He had his head sets on at the beach the whole time," Isabella said in the piece. In October of 2009, Isabella joined Benjamin in his hometown of France where the two went sightseeing around Paris together and visited famous Parisian landmarks, Monte Marte and Moulin Rouge. Benjamin was happily posting pictures the happy couple took of each other each day on his Facebook to document the travels. Benjamin proudly accompanied Isabella to the Princess Grace Awards where she was awarded the prestigious dance prize. Benjamin adoringly snapped pictures of his girlfriend at the ceremony.
"I feel like I'm heading in the right direction," Isabella told Pointe magazine at the time. In November of 2009, Benjamin posted what could possibly be the last picture of the happy couple. It was a Polaroid picture of Isabella and Benjamin smiling together. Just a week later, Benjamin began work as a choreographer and actor in The Black Swan, where he met Natalie and started a relationship with the star.
Article continues below advertisement
Now, less than a year later, the couple is engaged and expecting their first child. So who is Isabella Boylston, exactly? A small town girl, born in Sun Valley Idaho, Isabella had been dancing since the age of three and joined the American Ballet II in 2005. Benjamin admired his girlfriend — who is 10 years his junior — for her dancing prowess and even put her as a principal in his show, Everything Doesn't Happen at Once, which debuted during the American Ballet Theatre's fall season of 2009 at Avery Fisher Hall at the esteemed Lincoln Center in NYC. Although it's unclear when exactly their relationship began, Benjamin and Isabella knew each other as early as 2008 when they worked together at Baryshnikov's 37 Arts Studios where Benjamin choreographed.
Isabella was likely blind-sided as Natalie and Benjamin's relationship unfolded this year. In January of 2010 she was still working with Benjamin and designed costumes for his production of 3 Movements for the Pacific Northwest Ballet. Natalie released the following statement to Entertainment Weekly Monday, shortly after the news of her engagement and pregnancy went public.
"I have always kept my private life private but I will say that I am indescribably happy and feel very grateful to have this experience," she said.