NEWS
Benji Madden Definitely Over Paris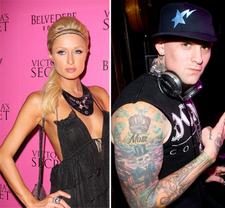 During the DirecTV Celebrity Beach Bowl in Tampa, Florida, Good Charlotte twins Joel and Benji Madden celebrated Super Bowl Sunday with, what else? parties!
The night before, Benji spent most of his time behind the turn tables at the Models and Bottles party, where he was joined by another celeb DJ, Samantha Ronson and girlfriend, Lindsay Lohan!
The on-again, off-again couple was rumored to have gotten into yet another public argument, but Benji tells OK!, "They're great. We've known Sam for a long time and they're great girls." Benji added that when it comes to his DJ-ing skills, "Samantha gives me tips. She's been DJ-ing a lot longer."
Article continues below advertisement
Then there's that near run-in with Madden's ex-girlfriend Paris Hilton, who showed up as a celebrity guest at the Models and Bottles party. The two, have not been spotted together since their break-up, spent most of the night on opposite sides of the room.
When asked if he's dating, Benji told OK!, "I've just been working. I'm great. I can't complain. I have a great life, I'm working, I'm happy."
Benji's brother Joel Madden also has a reason to be happy. His daughter with Nicole Richie, Harlow, just celebrated her first birthday.
"She's great, she's doing everything a 1-year-old does," he told OK!, adding that his relationship with Nicole works because "we love and support each other."
Aww!
By Laura Lane