NEWS
Benji Madden Not Kissing This Girl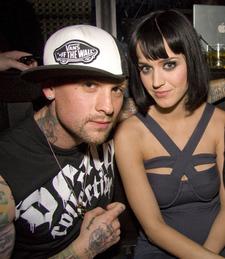 Katy Perry might like singing about kissing, but when it comes to real life, this playful songtress was quick to dismiss rumors about cozying up to Benji Madden on Valentine's night in Las Vegas.
"Oh kittens! It's two pseudo famous people sitting next to each other... doesn't mean we were bumping uglies!" she writes on her blog after witnesses tattled on the cuddly twosome.
"You know I don't just do that with anyone! That's just how the media works, as you can tell. I was there celebrating a really fun show and a boozy Valentine's with all my good friends. We were like a group of 25!"
Article continues below advertisement
So who does Katy's heart really belong to? Well for starters, the jet-setting singer, who revealed she's currently in Monaco, wants to trade in her travel time for a certain (very taken) Hollywood golden boy.
"I wonder if you can cash in frequent flyer miles for a boyfriend rather than just dinners and gift certificates for Starbucks? 'How many miles for Brad Pitt, pls?' "